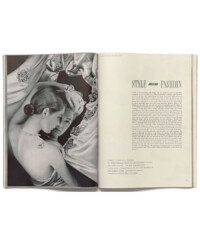 Before Diana Vreeland was a legend, she was a fashion editor. Perhaps, according to a new book, Diana Vreeland: The Modern Woman, the very first one. The job was given to Vreeland in 1936 when she joined Harper's Bazaar, where she would remain for nearly 30 years.
Its subject's grandson, Alexander Vreeland, who previously published a book of his grandmother's incredible-to-read memos, writes Diana Vreeland: The Modern Woman. The tome includes hundreds of images from Vreeland's fashion pages, including work by Richard Avedon, Louise Dahl-Wolfe, Lillian Bassman and more. Additionally, the book features commentary by Bruce Weber, Inez van Lamsweerde and more of fashion's most memorable characters.
Here, DuJour has a sneak peek inside.