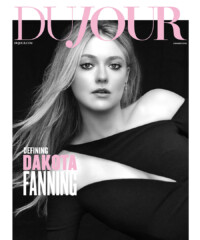 With many of Dakota Fanning's earliest projects, such as I Am Sam, War of the Worlds, and The Cat in the Hat, regularly popping up on cable television, the actress is, for many audiences, perpetually frozen in time as a tween. However, at 24 years old, Fanning is most certainly not the cherubic little girl in those films and the projects she has undertaken in recent months further demonstrate her evolution.
This summer, Fanning appears in the all-female remake of Ocean's 8, costarring Sandra Bullock, Cate Blanchett, Anne Hathaway, Sarah Paulson, Helena Bonham Carter, Rihanna and Mindy Kaling. "Even before I was involved in any way I was excited about the idea of an all female Ocean's edition," says Fanning. "I loved Ocean's 11, Ocean's 12, so I'm so excited to see that vibe inhabited by such talented women and I like that my name is attached to a cool group of ladies."
Weirdly, a role in a 2018 crime caper is a total 180 from her previous project—as Sara Howard, the first female police officer in 1896 New York, in TNT's The Alienist, which costars Daniel Brühl as psychiatrist Dr. Laszlo Kreizler and Luke Evans as society bon vivant-turned-investigator John Moore. The 10-episode series based on Caleb Carr's 1994 novel premiered to solid ratings in January, and message boards are already buzzing about the possibilities of a second season, potentially based on the follow-up novel in Carr's Dr. Kreizler series, The Angel of Darkness. It was Fanning's first television project since the 2002 Taken mini-series.
A fan of Criminal Minds and other hardboiled dramas currently punctuating America's televisions and podcasts, Fanning was interested in exploring work on the small screen when she was approached about The Alienist script. "The stories that were being told [on television] and the shows I was watching were so good," she says. "I read the first three episodes and loved the character, loved the story."
Fanning's character, Sara, was expanded from the original novel to become one of the three series leads. In an era of #MeToo, it's a challenging role to watch as she faces harassment and discrimination as the only woman in a turn-of-the-century police department, working directly for newly appointed commissioner Theodore Roosevelt. But as the story unfolds, we see her strength and tenacity. "The first scene that we meet [Sara], she is not so quiet and not so nice," says Fanning. "It was just about sprinkling different seeds—whether it's over 10 hours or 2 hours, you're usually hinting at what's to come in subtle ways for your character."
Attempts had been made to adapt The Alienist since the novel came out, but the richness of the characters and the depth of the story had made it too extensive for a two-hour film. But the success of other limited series, such as American Crime Story, opened the door for a television adaptation that allowed the plot to unfold over 10 hours. Jakob Verbruggen directed the first three episodes and after, multiple crews ran simultaneously to complete the project. Says Fanning, "I kind of thrive in that pressure situation of the jumping back and forth between the units. Some of the other actors were like, this is crazy, but I just went with it; it was fun."
A large-scale series like The Alienist was a new endeavor for TNT, and no expense was spared in its creation. Sets included fully propped storefronts on constructed streets that come to life in aerial photography, as well as an under-construction Williamsburg Bridge that plays a significant part in a key episode. Michael Kaplan, who created wardrobes for Star Wars: Episode VIII, among others, produced period-specific costumes for each of the characters. "As Sara goes along, her clothes get more tailored and slightly more 'masculine' for the time, and feel a little bit more like armor," says Fanning. "In terms of the restrictive nature of the clothes and the corset and having to be helped to get dressed in the morning and having to be helped to get undressed, it just puts you in a different mindset."
Sara's ties and the trousers also helped visually transform Fanning from the doe-eyed Fern of Charlotte's Web into The Alienist's gun toting badass. "I think that idea has been constructed by other people; it's not necessarily how I feel about myself," she responds to the idea of being typecast in roles best described as "sweet." "I'm drawn to darker material a lot of the time. When I think about the work I've done, I feel like I see a lot more darkness than light."
The Alienist's material—hunting a serial killer through the seedy underbelly of turn-of-the-century New York brothels—is decidedly dark. Even Fanning found the series penultimate episode (which she watched alone in a hotel) terrifying. However, the costars kept things light on set, and those are the memories she sees watching the show in real time. "Just because you're in something serious or something scary doesn't mean you're serious or scared the whole time during the making of it," she says. "You're trying to make it as real as possible, but you know how not real it is."
Filmed over seven months in Budapest, Hungary, the series was one of Fanning's longest time commitments to date. "I hadn't been away from home for that amount in time in a long time, so I was nervous about it, but it ended up being a nice break from my life," she says. "How often do you get to just skip town and live in Europe for a summer?"
Also new for the actress was the experience of interacting with people who were watching the show unfold week after week. While Fanning herself isn't on Twitter, costar Luke Evans kept her appraised as to fan reactions on social media. "It felt like a much more connected experience than when a film gets released," she says. "Great material is great material wherever it lands. I [love that it was on cable] because it's so accessible for people to watch and that's ultimately what you want—for people to be able to see [your work] as easily as possible. We're thinking less and less about where people watch things."
By all accounts people were watching—The Alienist's premiere drew 3.1 million viewers; cumulatively it brought in 13.1 million, half of who were new to the network. Another 16 million saw the series through online streaming. Hence, it's no surprise that Fanning appeared at the network's May Upfronts and the buzz around a potential second season isn't slowing down. "There's nothing confirmed, but I think it's definitely safe to say that we would all be open to seeing if there was another part of the story to tell because of how great the experience was and how much we each love our characters," says Fanning. "But I also think what's nice about it is there's a satisfying end, because we really do tell the story of the book, and The Alienist is bookended. Sometimes it is frustrating when you feel like it is too much of a cliffhanger at the end."
After the series wrapped, Fanning returned to America to make her directorial debut, a short film for Miu Miu's Women's Tales, titled Hello, Apartment, written by Liz Hannah (cowriter of Oscar nominated film The Post). Fanning's was the 15th in the series that celebrated femininity in the 21st century with shorts made by women filmmakers including Zoe Cassavetes, Ava DuVernay and Chloë Sevigny. "I definitely don't take any project for granted or take my career for granted by any means, but the area of my life that I've never stressed about was acting," says Fanning, who foresees always having a career in entertainment, both in front and behind the camera. "That's a really happy place for me. I stress about other areas of my life, but I don't really worry about [getting projects] and I just have hope that it continues. I just trick myself into being calm and then everything follows."
So far, that mantra seems to be working. Born and raised in Georgia, Fanning got her start doing commercials. But her family recognized her aptitude and passion, and brought her out to Los Angeles for six weeks to meet the West Coast arm of her agency during pilot season. They stayed with an aunt, visited Disneyland, and watched as opportunities began to roll in. "For years my mom would say that we still live in Georgia; we're just here because this 'thing' is happening," says Fanning, who recalls the first time she was recognized by a fan, shopping at The Gap with her mom at age 7, not long after the release of I Am Sam. "My mom was constantly making sure that I knew I didn't have to do this, and that actually she would rather be back in Georgia. But also, my mom recognized something in me and recognized potential and recognized the love that I had for acting. You can tell when somebody really wants to be doing something, whether they're 2 or 20—you can tell when somebody is happy and I was. I looked at it as fun and the Internet wasn't the way it was, so I was only affected by the people that I was interacting with on the set. It wasn't like people were talking about how I looked at 7 years old in a negative way because we didn't really have that yet."
Bigger roles followed and so did Fanning's younger sister, Elle Fanning, who today is a star on the rise in films such as The Beguiled and Trumbo. "It's crazy how that is something that Elle and I are always asked about, if we're competitive with one another," says Dakota. "We're normal sisters, we're not some super evolved species where we have never felt competitive or have never felt jealous, but we have a great dynamic. There's no person I want to succeed as much, or more than, myself than my sister. If there ever was a time where [we were up for] the same part, the person that I would want to get it if it wasn't me would be her.
People who don't know us, who just see us and think, Oh they must be so similar because we look similar and 'are' similar to the naked eye, but we're so different," she continues. "Anyone who knows us or spends any amount of time with the two of us, we're immediately very different and so I don't think either one of us really worries about the crossover because something is either right for her or right for me."
Another area where Fanning is remarkably unaffected is social media, where she only maintains a presence on Instagram, which hit the mainstream when she was a senior at North Hollywood's Campbell Hall Episcopal High School, where she was a cheerleader, homecoming queen and a member of the prom court, among other "normal" high school activities. "The way I think about my Instagram is what I share, if it's true and it's real then I don't feel weird sharing it," says Fanning. "There are some things I wouldn't want to share, because I don't want anybody beside a close friend to know that. It doesn't really have anything to do with being 'famous'; I'm not an over-sharer in general whether people know who I am or they don't. [I feel like] if it's personal, you don't share."
Having every element of her life the subject of fascination is something that just rolls off Fanning's back—whether it's curiosity about the Miu Miu gown she wore to the recent "Heavenly Bodies: Fashion and the Catholic Imagination" Met Gala, sitting with boyfriend Henry Frye at a Prada fashion show, or just leaving a magazine interview at New York's SoHo Grand Hotel, where a number of paparazzi were outside the door, snapping photos as she walked downtown. "[For people] that goes either one way or the other—one way being that it drives you crazy and makes you obsess over it and freaks you out, which is totally valid," she says. "Or its what I feel I am, which is because it's always been there, I've gotten so used to it that it doesn't bother me at all. I just live my life as if nobody knows who I am, which I think has always been important to me because maybe one day, nobody will know who I am. I like [acting], and the rest of the time, I just do what I got to do to live the life that makes me happy."
And, if you don't have anything nice to say, don't comment. "People as a whole need to curb how they speak about other people in general, famous or not," adds Fanning. "You can be so anonymous on the Internet and say the worst things—that's totally unfortunate."
Today, without another project on the horizon, Fanning's plan is to just "be open" to whatever comes her way next. "I did set one goal this year and that was to say yes more than no," she says. "I don't know if there's been anything that's been out of character, but there's been a lot of travelling. I don't have a ton of responsibilities, I don't have any kids, I'm not married, so I'm taking advantage of the fact that I'm in this free time in my life and I just want to be open to it."
Main image: Black stretch crepe gown with cut outs, $3,960, PAMELLA ROLAND, available by special order at Bergdorf Goodman, bergdorfgoodman.com.