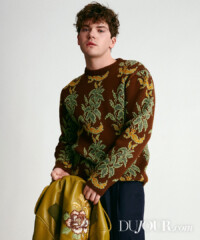 In an age when big celebrities seem to be all that populate the Broadway boards, it's rare to watch a performer become a star right before your eyes. That's what's happening eight shows a week at the St. James Theatre when Colton Ryan shows up on stage.
In the new musical New York, New York, Ryan, who turns 28 just before the Tony Awards in June, stars as Jimmy Doyle, an aspiring musician who falls in love with an aspiring singer named Francine Evans (an equally star-making role for co-star Anna Uzele).
If the title feels familiar, it's probably because you know the old Kander and Ebb song backward and forward. The little town blues, the vagabond shoes, the city that never sleeps. The show, which also includes other classic Kander and Ebb tunes like "And the World Goes 'Round," "Marry Me" and "A Quiet Thing," is based on the 1977 Martin Scorsese film of the same name. That movie starred a couple of no-names as Jimmy and Francine: Robert De Niro and Liza Minnelli. Easy loafers to fill.
But Ryan is up for the challenge. First, there's the dancing. He tap danced a bit in college, though not enough to score an A, he recalls. When the show's creative team presented him with the big Act 1 tap number inspired by the iconic photograph "Lunch Upon a Skyscraper," they told him that as the leading man, he could just step to the side and let the real dancers strut their stuff.
"I started doing the math in my head, and I just thought, 'I'm on a skyscraper, Where am I going to go?'" Ryan says, laughing. "If I was in the audience, I know how critical I would be if someone was up there faking it."
"I love an actor who is not scared to take chances, and that's very much Colton," says the show's director, Susan Stroman.
So Ryan spent six months at Broadway Dance Center re-learning to tap. He also worked on the routine for umpteen hours alone with a choreographer. When the rest of the dancers came in to learn the number for the first time, Ryan was humbled yet again. "I had to leave the room. I'm watching these brilliant dancers pick up the choreography in five minutes. They were talking in this other language."
"It was a real struggle," Ryan adds, though you wouldn't know it from his seamless steps onstage.
Then, he needed to learn the instruments. Jimmy is a jazz pianist, "and they wanted it to be so real," Ryan says. Offstage, he plays the guitar, which was of no help, and he played the tuba in middle school. "[The creative team] thought that was hilarious." They added in a little tuba action, but Ryan had to relearn how to play that—"It's not like riding a bicycle," he says—and spent months learning jazz piano.
"He's constantly pushing himself to take risks and explore new possibilities," says Lin-Manuel Miranda, who contributed lyrics to the show. "He leads with a fearlessness in his performance."
"This whole thing has ended up being a lot of firsts. I've never prepped this hard in terms of learning new skills," says Ryan. "It's a strange exercise in doing everything I thought was the scariest thing. People ask me, 'How do you do it?' and in general, I just don't know. The minute I start thinking about it, I might lose it all."
When he was growing up in Kentucky, Ryan's grandparents exposed him to lots of old movie musicals, West Side Story, Camelot and Li'l Abner among them. In grade school, he landed his first stage role as the Munchkinland coroner in The Wizard of Oz. Quickly, "theater became my everything, really," he says, culminating in a high school performance in Les Miz.
"That's the feeling I'm still chasing," Ryan says of playing Jean Valjean at 17. "I felt something energetic beyond me. I imagine it's what it's like for a dancer to jump into the air and do a full tilt, more than 180 degrees. That must feel like the most incredible thing in the world."
At 21, Ryan had already made it pro in New York as Ben Platt's understudy in Dear Evan Hansen. He and Platt are still very good friends; Platt happens to be appearing in a revival of the musical Parade this season, just a block away from the St. James. Ryan also appeared on stage in the Bob Dylan musical Girl From the North Country, but after that closed due to COVID-19, "I tiptoed away from things Broadway, even though I missed home a little bit."
Ryan got called to participate in a workshop of New York, New York while he was filming the Hulu true crime drama The Girl from Plainville in Savannah, Georgia. (He plays Elle Fanning's boyfriend, who commits suicide. "It was a little heavy," he says.)
When he read the title sheet on the New York, New York script, he recognized this was "a legends-only lineup" of Kander, Ebb, Miranda and Stroman, a five-time Tony winner.
"It was one thing on paper, but to hear the magnitude of the breadth of [Kander and Ebb's] work—being inside of it, it lingered like nothing else," Ryan recalls. The show is a call to arms, he explains, for loving a somewhat broken New York. "And to anyone who saw [the workshop], it was deeply emotional. I just put my hands up hoping we'd do it for real."
"I knew Colton was right for the role the moment I met him," recalls Stroman. "He's got the confidence in his craft and a true passion for music that emanates from every part of his being. Plus, he's charm personified."
Miranda adds that Ryan's voice "is from another era, in the best way. He sounds right at home in 1946."
Says Uzele, his onstage love interest: "He knows exactly who he is. He doesn't try to fill anyone's shoes but his own, and he does it damn well."
The role of Jimmy Doyle is one Ryan had always dreamed of—a melange, he explains, of "the goof who does a soft shoe like Gene Kelly and the guy who gets to sing the beautiful love ballad to the girl."
Performing the show nightly, he says, is an "unbridled joy. It gets my blood racing." It's also nice to be back in New York with his fiancée, Adrian Grace Bumpas, an actor and producer.
"She is New York City to me. This whole thing is for her," Ryan says. "We have a lot of dreams together."
Achieving those dreams, at the moment, involves drinking two gallons of water a day and trying to get a nightly eight or nine hours of sleep before singing and dancing his heart out down in Times Square.
"As much as I've been hoping for this moment, I've been slowly tiptoeing away from it," Ryan says. "But I've found myself readier than I ever thought. I'm hacking it and I'm hoofing it and I'm really happy where I've landed."
__
Hair: Madison Sullivan
Grooming: Sandy Nicha