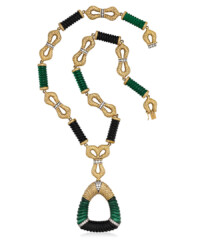 Calling all jewelry collectors: Prepare for September 20th, when the Christie's will offer a once-in-a-lifetime online sale of luxury pieces from Buccellati, Cartier, Hèrmes, David Webb, Van Cleef & Arpels, Tiffany & Co. and more. The dynamic signed pieces span a range of designs, from modern to vintage and retro. Ahead of the sale, we spoke with Angelina Chen, SVP of E-Commerce & Jewelry at Christie's, to see what to watch out for.
What types of pieces are you seeing in this year's jewels sale?
We are seeing very classic pieces that stand the test of time, in addition to some unique artist pieces such as the Alicia Penalba bracelet.
What should you look for when buying jewels online?
You should look for a great company that stands behind what they are offering. When buying online, go with a larger company with experience and track record like Christie's. You want to transact with a company who will stand by their information and cataloging. Also, the items on offer are more unique and special because of the immense reach of our resources in acquiring property.
What are your top tips for someone buying their first piece of luxury jewelry?
If you are buying your first luxury item online, take a look at estate jewelry. What is great about Christie's is that we have been leaders in the market for 73 years and always provide a large and varied offering for any taste with extensive cataloguing for each item. Our specialists are always on hand to assist and answer any questions a new or curious buyer may have.
Register for the sale now, and get ready to make your purchases September 20th-28th, 2017.
Main image credit: pinterest.com