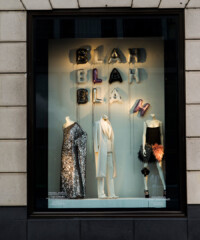 The iconic window displays at luxury department store Bergdorf Goodman have been a staple of New York City shopping culture for decades. The displays have featured everything from holiday decorations to a litany of collaborations with designers like DVF and Prada. From August 5 to 29, window shoppers and art admirers alike can enjoy a special installation from artist Sivan Sternbach called Scatter My Balloons at Bergdorf's — a take on the 2013 documentary film Scatter My Ashes at Bergdorf's.
Sivan, who was born in New York City and moved to Tel Aviv as a small child, was so inspired by the documentary that for a year she sent emails to Bergdorf's director of visual presentation David Hoey asking to have her work displayed.  Then, desperate to connect, she sent him a ceramic balloon in the mail.
The move paid off. For now until the 20th, Bergdorf's illustrious windows will be bursting with 100 ceramic balloons in various shapes, sizes and colors and spelling out playful statements like "Blah blah blah" and "The quick brown fox jumps over the lazy dog." Scroll through the gallery above for a look at the displays.