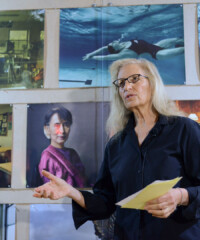 This month, WOMEN: New Portraits, an exhibition by Annie Leibovitz, opens at New York City's Bayview Correctional Facility. Sponsored by UBS, this show is part of a 10-city tour that will end in Switzerland, where UBS is headquartered. Leibovitz says of the show, "When I asked UBS about updating the WOMEN's project there was no hesitation. They said let's do it, and they have been extraordinary in every way. It's such a big undertaking and a broad subject, it's like going out and photographing the ocean." Following the traveling show, the photographs will enter the UBS Art Collection, which includes over 30,000 artworks.
In 1999, Leibovitz published her popular collection of female portraits in a book titled "Women." She originally collaborated with Susan Sontag and noted that the series was not yet complete. Now, fifteen years later, Leibovitz continues the project which illustrates the changing role of women. The collection of works has changed in each city. Leibovitz noted that the show's stint in New York includes a portrait of Hillary Clinton. In addition to Clinton, the exhibition showcases portraits of notable women of achievement from musicians and CEOs to writers, artists, politicians, philanthropists and more.
The unique location of the show, a former women's prison, functions as a major contributor to the theme of the collection. Following WOMEN: New Portraits, the former correctional facility will undergo a major renovation, resulting in its unveiling as a hub of social justice activism called The Women's Building. The new space will bring different organizations together with the goal of driving change for women and girls worldwide.