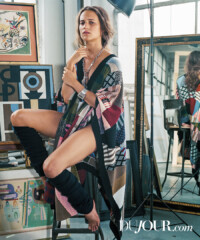 "Don't you want to say hello to the pretty lady?" Harvey Weinstein asks his 2-year-old son. A skeptical look crosses the little boy's face, and instead of answering he hovers close to his father, waving his hand and flashing a smile at the stranger in front of him. The adults exchange a few more words and, once pleasantries are sufficiently dispensed, the boy toddles out of the sleepy restaurant into the Tribeca morning, quite possibly the only person in the world not trying to get just a little bit closer to Alicia Vikander.
Considering the year Vikander's had, it's no wonder she's found herself—at least among grown-ups—the subject of fervent attention. Since the April release of Ex Machina, the indie thriller in which she played perhaps the world's most alluring vessel for artificial intelligence, the 27-year-old Swedish-born actress has appeared in an exceptional string of films, including the World War I drama Testament of Youth, Guy Ritchie's spy romp The Man from U.N.C.L.E., the dark comedy Burnt and director Tom Hooper's breathtaking love story The Danish Girl. She's been tapped as the face for a Louis Vuitton campaign, landed a role opposite Matt Damon in the next Jason Bourne movie and accrued the kind of burgeoning celebrity that compels movie moguls to drop by her table at breakfast and introduce their bashful children. Still, Vikander will tell you, sudden ubiquity isn't all it's cracked up to be.
"A lot of the films are coming out during the same time, so it's been a bit overwhelming," she says in her soft, British-inflected English. "I'm scared of overexposure, but really I'm just feeling very happy about the work I've done with people I admire. Finally, we can let the films out there and see them alive."
A native of Gothenburg, Sweden, Vikander grew up with dreams of being onstage. As a child, she performed locally in musical theater, and she went on to study at the Royal Swedish Ballet School in Stockholm before opting to chase a career on-screen instead. "It's probably the biggest life decision I've had to make, to finish dancing after so many years," she says now. "It was a bit like breaking up, saying, 'I think I have to not see you for a while. I need to go on this next journey.' " And she might not be completely over it.
For the photos accompanying this story, Vikander—who still sports a lithe dancer's frame and exudes bunhead confidence—was shot alongside New York City Ballet star Robert Fairchild. It was the first time since hanging up her leotard as a teen, she says, that she's had the opportunity to dance: "I was like, fuck, what have I gotten myself into. But the music came on and I was able to just let go. We did lifts, we improvised and we danced. It was amazing."
On-screen, Vikander's collaborations have a similar chemistry. In Testament of Youth she plays Vera Brittain, the pacifist writer now best known among British schoolchildren required to read her wartime memoir. But opposite Kit Harington as her love interest, any historical haughtiness is wiped away by hot-blooded adolescence and devotion.
"In my eyes, Alicia is one of the most unique, forceful and sensitive actors I know," says Harington. "Working with Alicia is kind of like going into battle with another actor, in the best possible way."
If that's the case, her latest battle might boast the highest stakes of her career to date. In The Danish Girl, Vikander plays Gerda Wegener, a Danish artist whose husband, Einar—played by Eddie Redmayne—would become one of the first known recipients of a gender-reassignment operation. The film is based on David Ebershoff's award-winning novel of the same name, a fictionalized version of the Wegeners' story. But despite the stirring subject matter, the project has seen its share of false starts over the years. Directors Anand Tucker and Tomas Alfredson and stars including Nicole Kidman, Charlize Theron and Gwyneth Paltrow have all been attached to the project only to drop out. It was only when Tom Hooper, an Academy Award winner for The King's Speech, took the reins that things started to fall into place.
"I was on the tube in London and read in the Guardian that Eddie was going to do The Danish Girl with Tom Hooper, and I was wowed," Vikander says. "I knew they had tried to make this film for a long time and I thought they'd made a great casting choice, but it had no connection to me."
What Vikander didn't yet know is that Hooper had hit a wall trying to cast Gerda. "I was quite troubled about who I could find to play opposite of Eddie," the director explains, "because Eddie is so phenomenal." When he met the young Swedish actress—whom he'd been impressed by in the 2012 film A Royal Affair—he found what he had been looking for. "Alicia was a revelation," he says. "She never slowed down. She was always ahead, and she's incredibly intellectually bright. I like working with actors who are collaborative, and she was a great collaborator."
Audiences seem to feel the same affection. When The Danish Girl premiered at the Venice Film Festival in September, the movie received a 10-minute standing ovation and Variety noted that Vikander's performance is "the stuff that best-actress campaigns are built upon." They're not wrong. Vikander is remarkable in the way she portrays the conflicted, emotional and sometimes-steely Gerda, offering her an extraordinary depth and amplifying exponentially the power of the film's love story. As her friend Nicolas Ghesquière, the artistic director of Louis Vuitton, says, "Alicia is a heroine, a strong, multifaceted woman, a true rebel. She's a real actress who's not afraid to take emotionally charged roles and play them wholeheartedly."
Outstanding performances aside, The Danish Girl also benefits from being released in a year that's seen unprecedented visibility for transgender people, and that's not lost on its cast. "If this film can be any part of that movement," Vikander says, "that's wonderful." But there's more to The Danish Girl than just a tale of gender identity. "It's a very unique love story, but it's still extremely relatable," she says. "It's about two people going into a new relationship, a new dynamic, and that's something every person has been through. It's a love story between two people, but above all it's a story about being able to love yourself."
If the role was an ideal fit, perhaps it's because of how thoroughly comfortable in her own skin Vikander seems to be. She's got an unguarded charm and is quick to discuss quotidian pursuits—perfecting her recipe for chili, obsessively watching Master Chef, hoarding home-design magazines—in a way that doesn't feel like pandering. She can chat at length about board games, and when she reaches into her handbag, she's more likely to pull out playing cards than any cosmetics.
"I always carry cards around with me," she says with a laugh. "My girlfriends are doing it now, too. I was at a film festival in Italy, sitting in a restaurant, and my agent and I started to play cards, and someone came running up to say, 'By law you're not allowed!' I said, 'We're not gambling, we're just playing cards. It's fine!' "
Of course, not much seems like a gamble for Vikander these days. She's had the sort of winning streak most actors can only dream of, and the projects she has on deck promise to keep her firmly planted in the spotlight. In the coming months she'll star, with Cara Delevingne and Jack O'Connell, in the period love story Tulip Fever and will appear alongside her beau, Michael Fassbender, in Derek Cianfrance's drama The Light Between Oceans. Still, there might be nobody more surprised by the way things have played out than Vikander herself. "I'm doing what I never dreamed I would do," she says. "I pinch myself every day."
That may be, but if there's any question left as to whether or not Vikander has arrived, it's unquestionably quashed when we signal the waiter for our check. "There's no bill to pay," he swings by to tell us. "Harvey put it on his tab."
In main photo: Cannage knit dress, price upon request, LOUIS VUITTON, louisvuitton.com. 
Hair: Gerald DeCock using Oribe Hair Care Makeup: Regine Thorre Prop stylist: Dimitri Levas Producer: Dawn Boller at Little Bear Manicurist: Donna D for Dior Vernis Stylist assistant: Caroline Shin