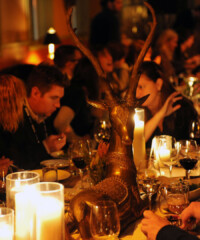 The same woman who opened up Surf Lodge, East End's favorite summer watering hole, is taking to the slopes with a new hotel venture in Park City, Utah. And just in time for the influx of out-of-towners, Jayma Cardoso is playing host to quite a few of Sundance's hottest star-studded parties at her Snow Lodge pop up. "During Sundance my schedule is so hectic, I don't have a chance to go ski and everyone you run into tells you how great their ski day was!" she laughs. In the midst of the festivities, we caught up with the hospitality whiz.
What's your most memorable Sundance moment?
Snowmobiling through Bonanza Flats above Deer Valley to the Talisker Club Yurt when we began an exploratory search for a site to launch the first Snow Lodge.  It felt like a Nordic adventure, and it was capped off with an amazing meal overlooking the incredible glades.
Describe your everyday festival "uniform."
Moncler jacket, Loro Piana Cashmere sweater, Sorel waterproof boots, jeans, a beanie Rag & Bone hat and Illesteva Sunglasses.
What does your typical schedule look like?
Wake up and meditate—it's my New Year's resolution and the rest of the day is so fast paced, this is my time to gather myself.  From there, I run over to where we are hosting the Snow Lodge and spend time going over details for whatever dinner or cocktail party we are hosting.  That ranges from dealing with DJs to menus and working with our staff.  I have meetings all this week about the Snow Lodge hotel project. I'll have a quick lunch, attend a movie screening, run home, and get dressed for that evening's dinner and cocktail party we are hosting.
The most exciting films at the festival this year?
Hellion. I love Aaron Paul and got to meet him when he was just starting out, so it's fun to see him as a major star now. And The Most Wanted Man—Phillip Seymour Hoffman is one of my favorite actors ever, and Rachel McAdams I think she is so stunning.
Click on the gallery above to see photos from Sundance parties at Snow Lodge
MORE:
Sundance Anticipations from Festival Insiders and Tastemakers
Montage Deer Valley: Where Sundance Checks In
Enjoy Park City—Without Seeing a Single Movie