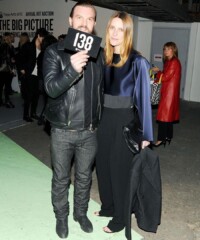 Fashion designer Monika Chiang, stylist Vanessa Traina and model Hilary Rhoda were just a few of the guests who attended the nonprofit organization's, auction at Chelsea's Eyebeam studios on Tuesday evening, where they were treated to Sonnier & Castle hors d'oeuvres and pineapple cocktails from Patron , and had the opportunity to peruse over 100 pieces of donated art (including popular paintings by artists like Dan Colen , Kaws and Mr. Brainwash )
The guest of honor, Richard Phillips , was also on hand to explain the importance of the cause. "When art is introduced to a group of young kids you see how important creative expression and artistic thinking means in terms of your own development," the New York-based artist said. Unlike "math and science," he continued, "there are no mistakes in art. It's purely creative thinking." Phillips, who is known for his use of vibrant color and glossy double images, sold 15 of his limited-edition "Blauvelt" prints created exclusively for the auction. Proceeds from each 1960s ad-inspired print sold contributed towards the $600,000 raised throughout the night, which will go towards the organization's educational art and mentorship program for the children of New York.
Take a look in the DuJour gallery to see more from the event.