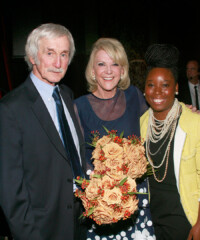 For more than thirty years, Communities in Schools (CIS) has provided 1.3 million young people and their families with basic needs like food, clothing, healthcare and, most importantly, a network of support. At this year's gala, the non-profit organization honored chairman Elaine Wynn for her fearless leadership and 15 years of service in helping to improve the lives of students.
"Before my involvement with Communities in Schools, I didn't have a picture perfect life," Ellie Densford says during her speech at Wednesday night's gala. "My mom was in and out of rehab. There was no way I could focus in school."
It wasn't until Ellie met Ms. Liberty that her mind-set completely changed. "Ms. Liberty encouraged me. She lifted me up. She made me understand that even though things are bad at home, they don't always have to be that way." Today, Ellie is on track to graduate from Texas State University with a degree in fashion merchandising. She plans to serve on CIS's board of alumni as a mentor—her way of giving back.
"That person that works in CIS is more than a facilitator," honorary chairman Elaine Wynn tells DuJour. "They become the caring adult and the counselor in the child's life. It's not something that's just random. They know that somebody cares and we don't give up on them. We don't give up."
In celebration of Elaine's efforts, students from the Alvin Ailey School and Soul Tigers marching band delivered a show-stopping rhythmic performance before 300 guests inside Cipriani Midtown. A ten-foot photo wall of CIS staffers and alumni anchored the entryway as red dahlias by Bronson van Wyck served as tabletop decor. Although no live auction was held that night, $500,000 was pledged to match donations made around the room.
MORE:
Partying with Dom Perignon
Breakfast with Gail Sheehy
Spend an Evening at Tod's