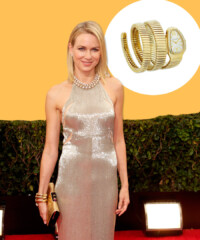 While the darlings of the fashion world were busy hob-knobbing at the Metropolitan Museum of Art for last night's Met Ball, the real party was happening at Lincoln Center—home to the James Beard Awards, or, as I like to call them, the Golden Globes of Food. There, 1,200 industry insiders—from all-star chefs to master mixologists—gathered for a "Sounds of the City" themed ceremony, where 40 awards were presented in categories ranging from "Rising Star Chef of the Year" to "Best New Restaurant."
Sure, the ceremony had its enjoyable moments, but the juiciest parts of the evening actually went down behind the scenes and at the post-ceremony Gala reception. As a first-time awards attendee, I kept my ear to the ground (and my glass filled with wine) in an effort to get the inside scoop.
In the gallery above, 12 fascinating moments from the James Beard Awards.
MORE:
Epic Family Feasts from World Renowned Chef's
Michelin-Star Love Stories
Corby Kumer Rethinks the Tasting Menu