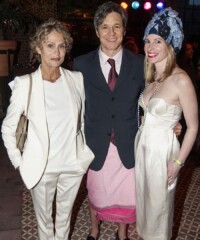 "You know, a lot of time the eco-friendly, organic cotton is worse for the environment," fashion designer Nicole Miller told DuJour at the African Rainforest Conservancy's 22nd Annual Artists for Africa benefit. And the longtime philanthropist, who emceed the evening, should know: "Not everything is what it appears to be, just like organic food. There's a lot of phony stuff out there and it's awful."
And so, with critics like Miller present, the evening's guests dressed to impress. While many took the benefit's "African Chic" theme literally—wearing head-to-toe leopard print, feathered boas and safari-chic gear—actress Lauren Hutton (who serves on the organization's advisory board) donned a model-off-duty-appropriate all-white ensemble and sneakers, and actress Maria Bello accessorized a simple button-down and jeans with statement accessories.
The event, which took place on Tuesday night at the Bowery Hotel in New York City and honored the country of Norway with the New Species Award and Thomas McGrath with the Lifestyle Achievement Award, began with a caviar and champagne silent auction—where passionate conservationists and artists, like Joe Zammit-Lucia and Asher Jay, told DuJour a little bit about why organizations like The African Rainforest Conservancy are so vital: "As we dig into wild landscapes, we infringe and fragment what is a tapestry. Everything is connected, but we're breaking it apart and taking the weave and fabric of life apart. Organizations like this are crucial in understanding how we're taking it apart and what we can do to assist." A live auction, featuring pieces from artists like Lola Montes Schnabel, Spencer Tunick and Dustin Yellin, followed, with CK Swett of Phillips as the auctioneer.
Take a look in the DuJour gallery to see photographs from the event.