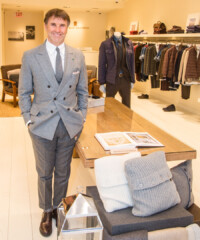 Brunello Cucinelli is a humble, gregarious man whose fashion brand celebrates human dignity, but he was treated like a king during his visit to Dallas. The city's top social stratum glossed up and stepped out—many of them clad head to toe in the brand's natty sportswear—to fete Cucinelli's new boutique at Highland Park Village.
"He is such a wonderful man, a total renaissance man," said Stephen Summers, who owns the posh shopping center with his wife, Elisa, and in-laws Heather and Ray Washburne. "Essentially everyone in his town is employed because of him. It blows my mind."
In line with Cucinelli's desire to improve the human condition, the shop allotted 10 percent of sales for four days to the North Texas Food Bank. "I'm on the board of the Food Bank, and when we knew they were coming we threw our hat in the ring," said Katherine Perot Reeves. "[The brand] is one of my favorites and I thought, maybe I can combine two things I like!"
Click on the gallery above to view more photos from the event.
MORE:
Brunello Cucinelli Debuts their Fall 2014 Collection
Native Texan Lyle Lovett Gives Away the Shirt Off His Back
Three Texas-Sized Outdoor Eateries