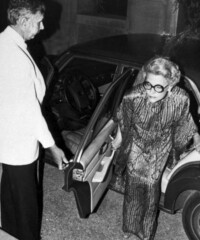 Upon first hearing the name Ala von Auersperg, you might picture a woman with distinguished pedigree, possibly descended from royals or movie stars; someone who embodies transatlantic glamour, and who could easily rock a caftan. Perhaps that is why Ala Isham, née von Auersperg, kept her given name for her line of regal caftans. However, while it may evoke refinement and status, the name also recalls Isham's tumultuous early life.
Isham's mother, Sunny von Bülow, was an American heiress and New York society fixture in the 70s and 80s. "My mother was very beautiful," says Auersperg. "Givenchy and Yves Saint Laurent dressed her all the time. Once, before a fitting, she said, 'The most incredibly handsome man in the world is about to walk in the room.' I started to cry because she was in her slip. Sure enough, it was Givenchy. Of course, he was gay so it didn't matter."
But Sunny's glamorous life would be cut short. In the early 80s, her second husband and Ala's stepfather, Claus von Bülow, was tried twice for attempting to kill Sunny by insulin injection. After the second alleged attempt, Sunny fell into an irreversible coma and 28 years later died in a New York City nursing home. 
Claus, who stood to inherit $14.5 million, was first convicted and sentenced to 30 years in prison, then acquitted in a controversial appeal brought by famed lawyer Alan Dershowitz. Ala and her brother Alexander became advocates for victims of violence, founding the National Center for Victims of Crime (NCVC) in honor of their mother.
 These days, Isham is combining her flair for design and her mission to empower women. "In April, we created a pink caftan, the color of healing, to benefit the NCVC," she says. And while a free flowing caftan might not be the most practical Women's March attire, Isham draws a connection between her two passions: "I really want is to make women feel good," she says. "The absolute opposite way of a woman who feels good is a woman who's been violated by a man and her life is forever changed. So if I can give her two seconds of feeling good, as far as I'm concerned, that's amazing."