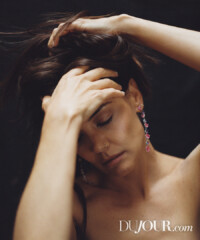 Most people came out of the pandemic with not much to show for themselves save a few new bad habits and maybe a larger waistline.
Katie Holmes wrote and directed a movie—her second. Alone Together had its premiere at the Tribeca Film Festival in June and will be released in theaters and on demand on July 29.
In the movie, Holmes, now 43 and a full-time New Yorker herself, plays a food critic who leaves Manhattan just as COVID-19 has begun to shut down the city. She heads upstate to an AirBnB that was reserved by her boyfriend (Derek Luke), only to discover someone else, an artist (Jim Sturgess), is already living there.
But this isn't a horror movie; it's a romantic one. Though at first they're the odd couple, sparks begin to fly after being stuck upstate. Holmes tells the story with a whimsical economy of scale that replicates the trapped feeling many New Yorkers felt during the early days of the pandemic. Holmes illuminates this feeling of isolation while also suggesting it's a shared experience. In essence, we were all "alone together."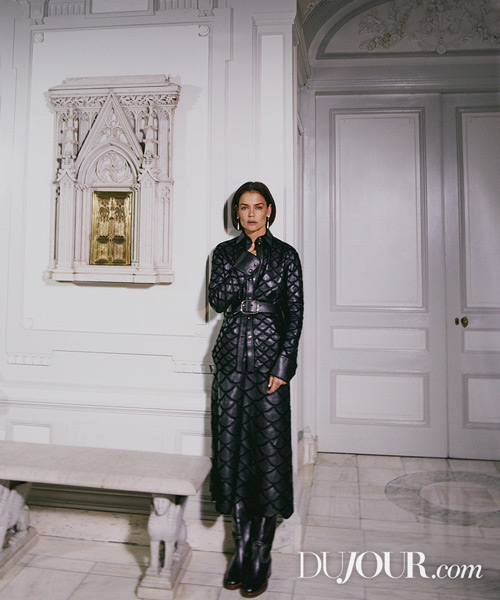 "I was intrigued how it would play out working with a co-star that was also the writer and the director of the project. I'd never experienced that on set before," Sturgess told DuJour, founded by Jason Binn. "But it turned out to be incredibly freeing and exciting. The three main people that I would need to communicate and collaborate with were all wrapped up into one person, and that person was right there in front of me, and thankfully was hugely open and generous." For Holmes, there was a steep learning curve despite having been on sets for the last 20 years. "I'm always learning, and you're just trying to figure out how to tell a story in every department," Holmes said at the Tribeca premiere. "Doing it all at the same time is a little tiring."
Sturgess also recognized that getting Alone Together off the ground in such a strange period was a feat in and of itself. "Getting any film off the ground is a logistic miracle," says Sturgess, who broke out in Julie Taymor's Across the Universe in 2007 and more recently had a starring role on Apple TV's Home Before Dark. "I was so impressed that Katie managed to not only write a screenplay during that time but organize herself and get the film financed and ready to go. That was something else."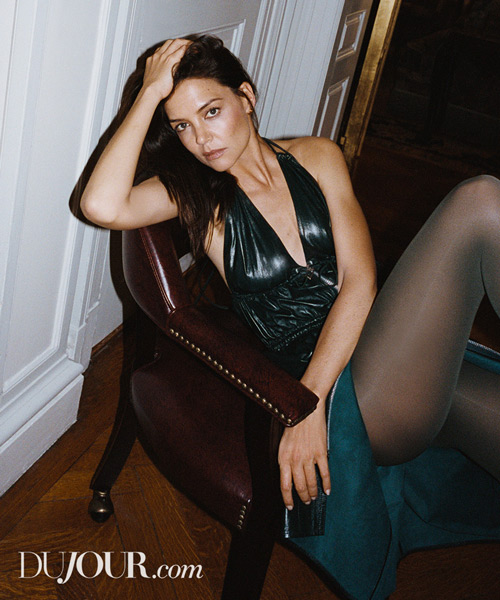 Holmes, who also directed the family drama All We Had in 2016, already has another film completed, which she wrote, directed and produced, a period drama called Rare Objects, based on the 2016 novel by Kathleen Tessaro.
"Katie is truly a great leader," explains Sturgess. "She believes in the creative community of making a film and the importance of that group's energy. She definitely heightened that sense of gratitude and positivity."
Also: she knows the secret to a happy set. Says Sturgess, "She was forever buying vast amounts of pizza to keep morale high."
___
On The Cover:
Top, $2,975, shorts, $2,175, socks, $1,475, socks, $1,550, HERMÉS, hermes.com. Clash de Cartier small earrings, $4,100, CARTIER, cartier.com. 18k yellow gold Classic Double-Band ring, $2,150, ROBERTO COIN, robertocoin.com. Tourmaline ring, $4,000, GUITA M, guitam.com
Hair: DJ Quintero for Living Proof at The Wall Group
Makeup: Genevieve Herr using Dior Beauty
Manicurist: Gina Edwards
Producer: Mariana Suplicy
Shot on location at the James F. D. Lanier Residence