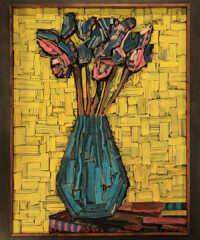 The works that will be featured at New York City's Allouche Gallery beginning May 24 were started before the 2016 presidential election. Nick Georgiou began crafting a weekly series of monochromatic portraits that were created using issues of the Sunday New York Times. His inspiration stemmed from the way the media had been, and still is, portraying the news in a dark light.  
This weekly series grew into Georgiou's upcoming exhibition, TURN THE LINE. The show includes painting-like literary sculptures comprised of printed newspapers and discarded books such as dictionaries and encyclopedias that are painted and meticulously positioned. 
"When creating the works I feel somewhat hypnotized by the material, the words that pop out, the energy transferred from human to object. It's a blur—the lines between sculpture and painting," artist Georgiou says of his creative process. 
TURN THE LINE speaks to Georgiou's specific process of turning or transforming a page of a book in order to create a new word or shape. In some of the pieces, you have to take a few steps back to notice the specific materials used to create the bigger picture. One example of this is in the piece titled "HUMAN," made of discarded books and acrylic ink on cut wood. Another interesting aspect to note is the way the outline of a book itself, which is typically square or rectangular, can be transformed into something completely abstract, such as a vase of flowers.
One of the more noticeable details throughout TURN THE LINE is the use of color within each individual piece. Introducing color into the gray and black pieces was meant to be a symbolic gesture of truth versus fiction, purity versus overindulgence and myth versus reality. When all of these diverse books were glued together and began literally sharing space, truth and fiction were also glued. 
Georgiou has been creating art for years, having been displayed in The Washington Post Company, the Tucson Museum of Art, Andipa Gallery in London and now the Allouche Gallery in New York City.
TURN THE LINE will be on view at Allouche Gallery starting May 24. 
There are more than 16 pieces of art made from discarded printed word for viewers to see. Click through the gallery above to get a sneak peek.