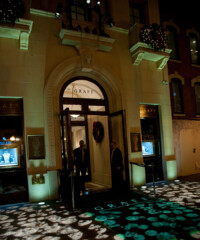 Only a select few jewelers can stand the test of time, and it's more than clear that Graff is at the pinnacle. Involved in every stage of the jewelry-making process, Graff pushes the boundaries of innovation and excellence.
"I'm extremely proud of the achievements of Graff Chicago, our Midwest flagship store," said Henri Barguirdjian, Graff's President and CEO of the Americas. The luxury brand celebrated its anniversary by welcoming a grand collection of exquisite and rare jewels from London. "Each piece has been very carefully selected," said Eve Rogers, Director of Graff Chicago.
Many of the pieces are being displayed in the United States for the first time ever; some were adorning the necks and wrists of live models outfitted in Lanvin gowns, while others rested in glass cases. Ranging from striking Burmese cabochon sapphires to beautiful and bold diamonds to delicate emeralds set in an Art Deco design, the collection is nothing short of astonishing.
The Graff jewels will be on display, and available to purchase, during the month of December.