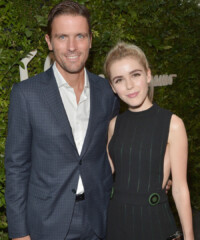 When making over a classic Rodeo Drive boutique, one always wants to put their best foot forward—especially when one is Salvatore Ferragamo, known for offering some of the most luxurious footwear imaginable for a full century in Hollywood. 
To celebrate the 100-year milestone of the titular shoemaker's tenure furnishing fashionable footwear to L.A.'s rich and famous, the newly remodeled Beverly Hills berth opened its doors for what genuinely felt like a family affair, hosted by Ferragamo executives and members of the brand's clan and attended by starry Hollywood lineage.
Demi Moore turned heads arriving with daughters Tallulah and Scout Willis; Andy Garcia squired his statuesque daughter Dominik Garcia-Lorido; Amazonian Ireland Baldwin held court near a pair of enshrined, paint-spattered Ferragamos owned by artist Andy Warhol, and other celeb-surname offspring —Lorraine Nicholson, Hopper Penn, Sasha Spielberg —mixed and mingled. 
"I got a taste of Ferragamo just by growing up in Los Angeles with their history— they're one of those brands that you just know about growing up here," said actress Cody Horn, the daughter of Walt Disney Studios chair Alan Horn, who was thrilled to be clad in a '70s-inspired Ferragamo creation. "I never actually got to touch any of it! This is literally the first time that I'm touching any of it."
Mad Men actress Kiernan Shipka, 15, remembered her first time wearing Ferragamo as something of a Hollywood rite of passage. "I was a bit younger and wore this Ferragamo outfit to an event and I just felt so fancy and lovely in it," she recalled. "It was such a beautiful, very summery piece, and that was my introduction to becoming very into Ferragamo."
A century after its eponymous Italian-born founder became the sensation of the celebrity set—iconic admirers have included Greta Garbo, Audrey Hepburn and Sophia Loren—Ferragamo remains coveted among the showbiz in crowd, as evidenced by guests including Frida Pinto, Armie Hammer, Camilla Belle and producer Joel Silver.
"There's a timelessness to Ferragamo, but it's also very, very modern," says model Angela Lindvall. "It's something that kind of dresses the essence of a woman, but there's a certain strength there, and I love the brand for that." 
That legacy receives direct but subtle tribute within the boutique through various design details, including steel doors modeled after one of the original, elaborate footwear patterns. The founder's grandson James Ferragamo recalls touring architect Bill Sofield though the elaborate shoe production process. "And he says 'Your shoes are too inexpensive! You should charge more because it's so complicated!" chuckled Ferragamo.
"But beside this joke, he really understood the concept of what we make," adds Ferragamo. "And he was able to transcend that in this store. He was able to bring some elements that you are able to see throughout the store which were actually taken from what he was able to see in the shoemaking."