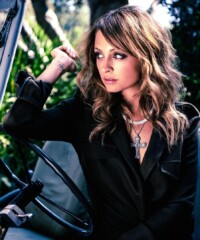 Nicole Richie is soaking wet. She's been standing under a running faucet—intended to mimic a downpour—for 15 minutes. Between takes, a makeup artist bolts in with the speed and urgency of a U.S. Open ball boy, using a spray bottle to spritz her face with water and ensure that her mascara will run just so.
We're inside a black tent on a residential street in Los Angeles. The thick late-August humidity makes it feel like at least 95 degrees—which means Richie must feel even hotter. On her tiny, practically childlike frame, she wears a poncho-style tarp that looks like a garbage bag with a hole in the middle, a military helmet and a massive duffel backpack. A palpable nervousness fills the set: Will Richie faint? Pitch a fit? Halt the shoot?
But she doesn't flinch. Per Richie's suggestion, our October cover shoot is inspired by the classic 1980 comedy, Private Benjamin. In the film, Goldie Hawn starred as Judy Benjamin, a naive socialite type who joins the U.S. Army on a whim. Indeed, as Richie stands beneath the makeshift shower, makeup dripping and an exasperated look on her face, she's the spitting image of Hawn on the iconic poster. What's more, she actually seems to be having fun.
"It's hilarious," Richie says. "I'm a huge fan of Goldie. But besides that, I gravitated toward the movie because you see her character faced with challenges—she has a choice to go back to what she's comfortable in or face new challenges. So that concept kind of speaks to me."
Like Judy Benjamin, Richie finds herself constantly reaching beyond her comfort zone. While she views her primary job as being a mother to Harlow, 4, and Sparrow, 3, she's also running a successful accessories brand and a clothing line, launching her first fragrance, called Nicole, and filming the second season of the reality TV NBC series Fashion Star, for which she mentors aspiring designers. In September, she introduced a 30-piece capsule collection for Macy's (available online and in over 100 Macy's stores). "It's an interesting time right now, because women aren't doing just one thing," she says. "We're wearing many hats, taking on different roles. That's just how the modern American woman is today."
When she speaks like that—so poised and self-assured, her flawless complexion worthy of a skin-care contract—she seems like the angelic foil to the Nicole Richie of years past, the one seen as the quintessential Hollywood bad girl. Raised in Los Angeles by her adoptive parents, music legend Lionel Richie and his then-wife Brenda (the family, right, in 1985), she struggled with drugs as a teen. (Lionel and Brenda Richie divorced in 1993.) Following a series of arrests and car wrecks, she checked into rehab. Then, just 10 days after completing treatment, she began filming the reality-TV show that made her a household name. She was 22.
That show was The Simple Life, and Richie was Paris Hilton's snarky, mischievous counterpart. Portrayed as the silver-spoon-fed offspring of rich and famous parents, the two took on low-paying jobs like milking cows and cleaning bathrooms. Although they failed miserably at their tasks, the show was a surprise hit—its 2003 premiere drew 13 million viewers.
However, by the end of The Simple Life's five-season run in 2007, Richie had reached a personal turning point. With her reputation on the mend and in a stable relationship with Good Charlotte's Joel Madden, she'd stopped engaging in tabloid-worthy antics. Rather than attracting attention for what she did, she was getting noticed for what she wore and became an example of modern bohemian chic.
Oddly enough, figure skating—a hobby not exactly known for its sartorial sophistication—was what first exposed her to the world of fashion and design. "When I was little, the woman who made my dad's tour costumes would make me a matching figure-skating outfit out of the excess fabric," Richie recalls. "I would always tell her exactly what I wanted. I was obsessed with Shirley Temple, so the shoulders were puffed, the skirt was out. It was just very, very girly."
So Richie began spending time at the designer's office. "That whole world was exciting to me," she says. "It became this process of something that I knew how to do." The time Richie spent designing ensembles for the ice eventually paid off. In 2008, she launched House of Harlow 1960, a line of jewelry, handbags and other accessories, followed the next year by women's clothing label Winter Kate. Today, both brands are carried in major high-end department stores like Bergdorf Goodman and Neiman Marcus.

 She stresses that her tremendous success as a designer has not changed her life very much. "It's not just like you wake up one day and all of a sudden your life is different," she says.
What has transformed Richie's existence is the family she and Madden have created (the photo of the couple, left, was taken in 2011). The two met in 2006 and married in 2010—but beyond revealing those facts, she's unwilling to say more. "I don't really talk about my personal relationship with him," she says.
Richie is equally guarded when talking about her upbringing. "One of the biggest differences in the way I'm raising my kids versus the way I was raised is that I was on tour a lot. I don't really do that with my kids," she says. "It's important to me that they have stability. I like them to be home."
She adds: "I was taken out of school, and had tutors. By the time my father went onstage, I was asleep."
So was she negatively affected by a childhood on the road? "There's no right or wrong way to raise a family," she says diplomatically. "Look, I don't know anyone who can say they don't just try and do the best that they can do."
Although discussing personal matters causes Richie to button up, she's forthcoming when the conversation turns to her career. Her eyes light up as she describes the moment she held a piece of her own jewelry—a sunburst-emblazoned ring—for the first time. "It was unlike any feeling," she says. "I can't even…I can't even put it into words."
Richie draws from experiences like these when she mentors the young hopefuls on TV's Fashion Star. She knows the highs of the creative life—but also the lows. "It's my job to let them know I'm here for them, and if they have fears about showing their true colors, that I know exactly how that feels."
She explains: "Every season, I have pieces that I'm passionate about but for whatever reason the stores don't want them. You have to get used to it, show them another season. You have to let them go." 

For the moment, she's ditched the sweaty army garb and sits calmly, bundled in a bathrobe. But as she speaks, Richie shows that like Hawn's Private Benjamin, she's learned how to roll with the punches.
"Always be open to criticism," she advises. "Criticism is the best thing you can ever get because it's someone's honest opinion—you need to hear it. What's the point of hearing how great you are all the time?"
And Richie wouldn't want it any other way. "I don't ever want to get to a place where I feel like I've conquered everything and I have nothing else to do," she says. "I'm 30 years old. I have a lot to learn."