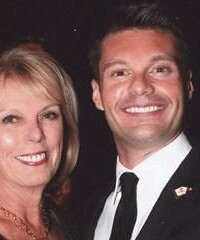 Click here to launch an exclusive gallery of Ryan Seacrest's family photos–including some from his childhood!
Between hosting American Idol and his correspondent gig on the Today show (not to mention his production company and radio show), Ryan Seacrest might just be the busiest guy in Hollywood. But despite his hectic schedule, the 38-year-old still gets back to the place he calls home: Atlanta.
Seacrest describes his suburban upbringing as typical: Friday-night football games, hanging out at the local sports bar and shopping at the Gap—"like everyone else coming of age in the 1990s," he says.
Today, a trip back home for previously pudgy Seacrest isn't complete without stops at his favorite restaurants—often with his parents, who still live in Atlanta. The other people he's sure to check in on are the kids at Children's Healthcare of Atlanta, where his charitable foundation has hosted acts including Selena Gomez and Joe Jonas. Says Seacrest: "It's fun to see the kids experience the live performances by the artists who visit."
WHERE TO STAY: THE ST. REGIS ATLANTA
"The hotel I always recommend to people who are visiting the area."
Opened in 2009, the 26-story hotel features a 40,000-square-foot pool. 88 West Paces Ferry Road NW Atlanta, GA 30305 (404) 563-7900
EXPLORE THE OUTDOORS: STONE MOUNTAIN PARK
"If someone is coming to Atlanta for the first time, the one place they absolutely must go to is Stone Mountain Park."
The 3,200-acre park offers camping, golfing and a Lasershow Spectacular on a screen that's taller than the Statue of Liberty. 1000 Robert E. Lee Boulevard Stone Mountain, GA 30083 (770) 498-5690
A NIGHT OUT: FOX THEATRE
"It's the best concert venue in Atlanta. I recall going to an awesome Richard Marx show there."
The historic venue hosts about 300 performances a year. 660 Peachtree Street NE Atlanta, GA 30308 (404) 881-2100
LIVING LEGEND: HANK AARON
"My favorite Atlanta personality is Hank Aaron."
The Hall of Famer spent nine seasons with the Atlanta Braves; following his retirement Aaron became the team's director of player development.
LOCAL FLAVOR: LA PAZ
"The one place I must go to whenever I'm in Atlanta: La Paz."
An Atlanta staple since 1979, the Mexican restaurant's menu features items like carne asada street tacos and nine different margaritas. 2950 New Paces Ferry Road SE Atlanta, GA 30339 (770) 801-0020
ALL DRESSED UP: PRICCI
"For special occasions, my family goes to this great restaurant called Pricci. The food and ambiance are consistently wonderful."
The restaurant's menu blends modern and classic Italian cuisine. 500 Pharr Road NE Atlanta, GA 30305 (404) 237-2941
Photos: St. Regis: Courtesy St. Regis Atlanta; Fox Theatre: David Smith; Hank Aaron: Getty Images