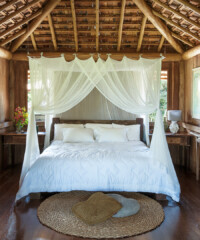 In Beachside Bohemian: Easy Living By The Sea, designers Robert and Cortney Novogratz offer up a peek at the beautiful, nature-inspired design inside their Trancoso, Brazil home. The couple, famous for starring in television shows like 9 by Design and Home by Novogratz, discovered Trancoso on the recommendation of a jet setting friend and soon fell in love with the destination, buying the four bedroom home and renovating and decorating it to the point of perfection. Thankfully for wealthy wanderers everywhere, the eye-popping decor and beachy but luxe amenities of the South American oasis are not confined to the book's pages—the home is currently available for rent. 
With our choice of accommodations taken care of, we asked the couple what else we should know before hitting Trancoso.
Where should we…
Have dinner: Maritaca—best pizza and pasta in all of Brazil. Fun atmosphere, great staff.
Grab a snack on the beach: The fried cheese with oregano is incredible. The corn on the cob buttered and salted to perfection is unmatched. Make sure you exercise because you'll eat more than one of both.
Sip a cocktail: El Gordo—it's not only the best place to grab a cocktail but the best to see the sun go down. Incredibly well designed, cool vibe. Be careful—don't drink too many of the caipirinhas—they're really good and stronger than you think.
Hunt for decor treasures: You can walk through the Quadrado at night and you'll see more original shops and cool things than any other place in the world.
Stock up on clothing and jewelry: Osklen.
Lay out for the best tan: Anywhere in Trancoso, but our favorite place is probably Uxua Beach Club—great staff, chic clientele, and really great food.
Get some exercise: The red clay tennis courts. 
Click through the gallery to see images from Beachside Bohemian: Easy Living By The Sea, available for purchase here.