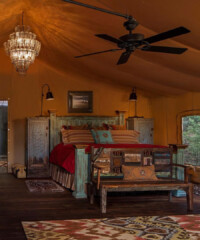 An odd thing happened during the recession: Somehow, outdoor recreation spiked. Now it seems like everyone from REI types to CEOs are heeding some kind of call to the wild, the latter the stuff of Oprah's-Book-Club dreams. Not that it was ever down-market to begin with—boats, bikes, lift tickets, licenses and the like aren't cheap—but these days playing outside is so important to Americans that we spend $646 billion a year on gear and excursions, $143 billion on camping alone, according to the Outdoor Industry Association.
For the economy, that's good news, and for the backcountry hospitality business, it's even better. Chalk it up to a recession bounce back or a refinement of standards, but for the surge of people seeking enlightenment in the great outdoors, there's a growing demand to do so without sacrificing comfort.
In 1997, Colorado horse and cattle ranchers Larry and Nadine Lipson saw an untapped niche for a luxury resort that specializes in outdoor activities, fine dining and highly personalized service. They moved to Greenough, Montana to open the Resort at Paws Up, a 37,000-acre property along the Blackfoot River, surrounded by state land with no chance of development. "Montana is still perceived as somewhat of a magical or mysterious place, probably because so few people live in the state, so few visit the state and because it's still so pristine and untouched. It's truly one of America's last frontiers," says Nadine. "We felt we could be the first brand in the Montana marketplace that would appeal to worldly, affluent travelers who are accustomed to the finer things in life and are adventurous in their travels."
A few of these travelers have recognizable names: Daniel Craig, Harrison Ford and members of The Rolling Stones have all stayed in Paws Up's luxurious private mountain lodges. But the resort managed to stake its claim early on the high-end camping experience; its first campsite of safari-style luxury tents opened in 2005, and in 2013 the resort debuted its fifth and most extravagant camp to date.
The aptly named Cliffside Camp (pictured above), with its six private canvas tents ranging from 605- to 977-square feet in size, sits hidden among pine trees above the Blackfoot River. The Lipsons have outfitted each tent—four have two bedrooms, and the remaining tents sleep two—with rustic four-post king beds and artisan furniture Nadine found in curiosity shops. "Indigenous to the area is a must," she says of the rugged yet refined Western decor. En suite bathrooms feature heated slate-tile floors, and the designated "honeymoon" tents for two have a copper tub at the foot of the bed. Plush robes and slippers? For the taking. Daily housekeeping and turn-down service? Of course.
In addition to two other restaurants at the resort, where Top Chef alum Dale Levitski takes the helm this summer, Cliffside Camp guests have the option of dining, well, on the side of a cliff. A private camp chef serves up seasonal dishes at an outdoor lounge pavilion overlooking the Blackfoot River. And camping butlers assist guests—or as the resort calls them, glampers—with any needs, including coordinating travel and daily itineraries.
"Our guests want a memorable and out-of-the norm experience," says CEO Stephen Beaumont. "Typically they spend a week doing things that are completely different [from] their everyday lives." Cattle herding (pictured left), sporting clays shooting and rock rappelling are just a few of the activities offered at the resort, not to mention the 120 miles of hiking, mountain biking, horse and ATV trails extending along the outskirts of the property. In the summer months, when Paws Up is busiest, "anything on the river—fishing, floating and rafting—is extremely popular," says Beaumont. Come winter, guests go cross-country skiing, snowmobiling, dog sledding and snowshoeing.
Bird and wildlife watching is another activity, but that's a given at a place like Paws Up. Recently, a chalkboard easel at the Wilderness Outpost, where guests congregate for activities, advised: "Recent sightings: baby marmots, whitetail deer, curlew elk, pronghorns, foxes, coyotes and lots of eagles." Above that was a mild warning: "We have a momma bear with cubs on the property! Please give her a wide berth if you see them, for your safety."
Whether you're a gap-year backpacker or glamping baby boomer, it's a good rule of thumb for the great outdoors: stay away from the bears, and everyone's a happy camper.
Rates at Cliffside Camp start at $1,475 per night based on two adults and include three meals daily. Click through the gallery to see more photos from Cliffside Camp and the Resort at Paws Up.