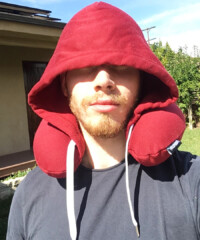 Oliver Stark, the 25-year-old British expat and actor who stars in AMC's action-drama, "Into the Badlands," currently calls Los Angeles home. And seven years into his career, Stark says that getting to travel is decidedly his favorite "work perk"—which is no wonder, since the actor grew up trekking through Europe every chance he got. Filming for his role on "Into the Badlands" has found him touching down in many U.S. cities—the show just debuted its second season, set in a post-apocalyptic United States—but one particular stop on his Tour de Americana had him breaking a sweat. 
"New Orleans was uncompromisingly hot and humid," Stark says. And when you're in leather jackets, that has its own difficulties. But to be there getting to enjoy the city was amazing. I got to spend five months exploring a part of the world that I had never been to, and there's a huge amount of culture that I never really found in London." Not only did a sense of adventure make the heat more bearable, but also the off-screen friendships Stark developed with his co-stars. The entire cast became close once they touched down in Nola; Sarah Bolger, who plays Stark's love interest on-screen, became one of his real-life best friends.
For Stark, the effort he puts into his work includes embracing new experiences, and as we all know: experience (like time) tells all. "I suppose coming off the back of "Into the Badlands" first season [in 2015] was the first time I really thought, 'Okay, I can do this,'" Stark said of his passion to pursue acting. "Because I think persistence is key to this. The longer you keep banging on doors, eventually someone may open one for you."  The end of Season 1 is marked a time when Stark could take a breath, assess and be clever in deciding which characters to take on moving forward.
And among the various characters that Stark has slipped into, one recent favorite includes a longhaired, indie rock star named Dylan in the Andrew Goth film MindGamers, out in March. Clad in leather, with a deep curiosity for greater consciousness, playing Dylan challenged Stark to embrace a physical transformation that made it impossible to cling to vanity. "In this character I looked nothing like myself," he said. "One of the appeals of acting for me has always been [that it's] a kind of escapism."
And escaping from who he is IRL was necessary for the many ways in which Stark and his "Into the Badlands" character, Ryder, differ. For example, Ryder has a tragically damaged relationship with his father, while Stark is incredibly close with his. But you can, Stark insists, always find a little of yourself in the characters you play. "He's a young man trying to find where he fits in the world," he said, "and I think that's something I can certainly relate to. I think every person goes through it." 
Main Image: Vanessa Viola Photography