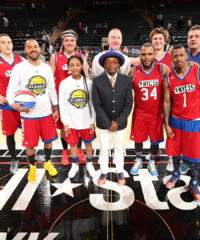 Mo'Ne Davis revealed her pregame ritual. "I keep money in my back pocket before every game," she explained. Despite making history as the first girl to pitch a shutout during the Little League World Series, the extraordinary eighth grader said that basketball is her true calling. 
Kevin Hart won his fourth consecutive MVP title. Despite his team's loss, the comedian took home the evening's top prize, scoring 15 points in 29 minutes. After accepting his award, Hart thanked fans and announced his retirement from the game.
Ansel Elgort does not like to be interrupted. "I'm not someone who goes to the game to socialize. When somebody sits next to me and starts to talk about other shit, I hate that," he said.
…and his idea of the perfect date does not involve basketball.  Said Elgort, "I like to keep things simple. A nice dinner and plenty of time afterwards to, you know, [pauses] be romantic."
ESPN host Mike Golic pulls a "Kanye" on Kevin Hart. Golic proclaimed that the player most deserving of the MVP title was WNBA star Skylar Diggins, who scored 13 points for her winning team. "You don't get this," he said, speaking to Hart. "This is a Kanye moment, Skylar!"
Even stars get starstruck. When asked about the last time he was impressed by a celebrity encounter, Grey's Anatomy actor Jesse Williams said, "Seeing Prince up close and personal for an entire show was brilliant. He's the best guitar player alive." Elgort was equally in awe after meeting his idol Walt "Clyde" Frazier. "Meeting Clyde was huge, he's larger than life. I grew up watching the Knicks. His voice is just so iconic." 
Dave Chapelle made a rare public appearance. Accompanied by his son, Chapelle came out to show his support for Kevin Hart. "All the comedians in New York believe in you," he said. "It's wonderful."  
Magic! performed at the half-time show.  When asked which celebrities the band would like to battle on the court in a game of their own, the Canadian quartet's lead singer Nasri said, "We would play against U2 or the Rolling Stones. Anyone short. Prince would be great too."