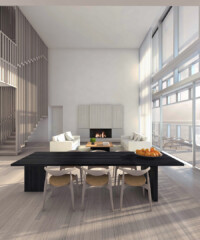 In the 14 years since Art Basel's Miami debut, galleries have proliferated, art fairs have multiplied and a slew of new arts and culture centers—including the Perez Art Museum, the Arsht Center for the Performing Arts, the Frost Museum of Science and the New World Center—have opened, a flourishing that has coincided with the city's real estate boom, making Miami a very attractive place for art lovers to invest. Unsurprisingly, many of the contemporary art enthusiasts who fly in every December, among them Russian art patron Maria Baibakov and superdealer Larry Gagosian, have decided to take up more permanent residence. 
Of course, not just any residence will do. Art lovers tend to be particular when it comes to their real estate: attuned not only to aesthetics, but the needs of their collection and, of course, the secondary market (a.k.a. resale value). 
Click through the gallery above to view some of Miami's newest residences.