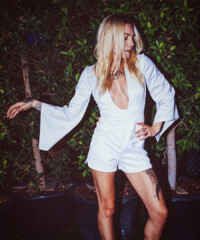 The voice behind the famed 2010 song "Love the Way You Lie" is almost guaranteed to give you goosebumps. The Eminem track featuring Rihanna's haunting vocals is what you've probably heard on the radio (if people are still listening to the radio). The song was released just a year after the ending of Rihanna's tumultuous relationship with Chris Brown that brought domestic violence to the forefront of the music industry–and the world–in a big way.
The song encapsulated the pain and heartbreak of Rihanna's relationship, and many others, including Eminem. A surprise to some is that longtime Eminem collaborator Skylar Grey is the songwriter behind the track's poignant hook. Most recently, Grey appeared on The Daily Show with Trevor Noah to perform a medley of songs she's worked on, including "Love the Way You Lie."
As I sit across from Grey earlier this summer, just moments before she's set to perform on stage next to rap phenom Eminem, she's wearing jeans and a black tank top with her tapestry of tattoos peaking through. Her boyfriend Elliott Taylor sits beside us and offers a few quiet giggles throughout our chat. Grey is delicate and relaxed as she sips her tea and I feel a mess of butterflies in my stomach as I hear the audience erupt when Eminem walks on stage.
"Eminem is giving me this little moment in his set which I think is really special. It's great that he's showcasing the songwriters behind the songs," Grey says. As the songwriter for "Love the Way You Lie" and "Walk On Water," and a singer in her own right, Grey is a multi-dimensional artist, but performing with Eminem has given her a platform she never dreamed of. "Performing in front of 100,000 people and hearing everyone sing back the lyrics I wrote is epic. I'm really grateful for the opportunity to perform with him on stage. It's a dream," she says, smiling.
Though Grey might be best known for her work with rappers including Eminem, Macklemore and Nicki Minaj, the vocal powerhouse got her start in folk music back in her home state of Wisconsin. From the ages of 6 to 14, Grey performed as a duo with her mom, resulting in three recorded albums. "We listened to a lot of Joni Mitchell, Fleetwood Mac and James Taylor. I've always been a fan of all genres of music," she tells me.
After working heavily in hip-hop and with rappers in particular, Grey says she's ready to change directions, but with a new perspective on songwriting. As a younger songwriter, Grey focused more on the sound of a song, harping on the melody and the music. "When I started working with rappers, it became all about wordplay and storytelling. I got inspired to take that idea of creating really good, clever lyrics back into folk music," she explains.
After working with Eminem in particular, Grey realized that the blending of genres is something that can expand audiences and lovers of music, in general. "On songs I did with Em, the chorus doesn't sound urban but then he's rapping. It's two different genres that bring together two different audiences," she says.
With a sultry and soulful voice, Grey is ready to take all of her experiences and varied musical influence into the studio for her next project. But, her lyrical inspiration is sitting in the room with us. She points to her boyfriend and says, "I'm super in love. We've been in love pretty much since the day we met." I obviously lose all my cool and let out a squeal because who doesn't love love?
The singer admits that she had her guard up for a moment when the two met but quickly decided to take control and make all the moves, as a strong female would. At a year into their relationship, Grey says the romantic songs are pouring out of her. "Most of my stuff is dark and introspective but this new material is so happy and romantic," she adds. I ask if writing "happy" music is more challenging than channeling a moodier tone and Grey references a moment in 2017 when she wrote her first happy song called "Glorious" with Macklemore. "It was the first time I wrote a happy song that felt authentic to how I felt. I was in love and I felt really glorious. I realized that I can do it."
Departing from what she's done in the past musically, Grey is prepared to give the world a new taste of Skylar Grey, in love and happy. Although she admits she loves a body of work, she wants people to have time to digest her rediscovered musical roots. So, listeners can expect singles in the near future and a full-length album further down the road.
Fast-forward ten minutes after our conversation end and Skylar Grey is on stage with Eminem rocking a sinful white jumper, belting out "Love the Way You Lie" at the last U.S. show for the tour. Click through the gallery above for an inside look at Skylar Grey's full tour diary.