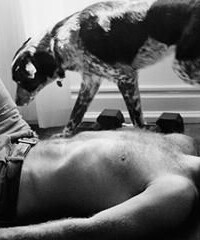 It's where F. Scott Fitzgerald wrote The Last Tycoon, where Jean Harlow and Clark Gable carried on their affair, where Natalie Wood met James Dean, where John Belushi suffered his fatal overdose, and where Lindsay Lohan has gotten into more than her fair share of trouble.
We're talking about the Chateau Marmont, of course, the legendary hotel on West Hollywood's Sunset Boulevard which is as much a Tinseltown character as any of the stars who've stayed (or played) there. So it's no surprise that the former apartment house caught the eye of Austrian photographer Jork Weismann, whose book, Asleep at the Chateau, was recently released.
"I chose the Chateau because it attracts interesting people," Weismann says. "It has a great atmosphere—and it looks good in pictures."
He's not lying. The book shows off not only the famous faces of Orlando Bloom, Justin Theroux, Usher, Patti Smith, but also lesser known regulars, all in the glamorous rooms and enchanting grounds of the infamous establishment. All of Weismann's subjects appear sleeping, a pose inspired by a portrait he did of a closed-eyed Annie Leibovitz that he says makes for a relaxed photo.
Weismann had only stayed at the hotel once before he started working on the book, but after completing his project, says he understands what makes the hotel so attractive to stars. "If you stay there, you get to know people," he says. "They make it easy to feel like you're family there."
Click here to launch a gallery featuring some of the images from his book and to read about what led to them.