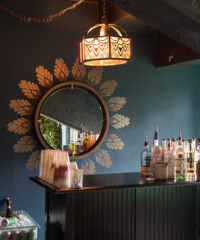 Going to a concert with a VIP ticket in-hand can be an exciting experience, filled with close-up photos and the ability to watch the actual artist, not the television screens neighboring the stage. But, sometimes VIP can end up being slightly anti-climactic. If you're looking for an even more elevated experience, Forest Hills Stadium in Queens, New York has got you covered. The historic venue recently implemented nine secret speakeasy suites, reserved exclusively for VIP concert-goers. The stadium, whose history dates back to 1923, has hosted some of the world's most iconic musical acts including Bob Dylan, The Beatles, Jimi Hendrix, Donna Summer and most recently, The National and Chance the Rapper. Following a revamp in 2013, Mumford & Sons performed the venue's inaugural show and since then, the regular summer concert series has become a bit of a draw for locals and tourists alike.
With this summer's lineup including the Arctic Monkeys, Portgual. The Man, Robert Plant & The Sensational Space Shifters and more, it's easy to assume that the stadium will be selling out shows. The speakeasy suites deliver a unique way to experience a show in Queens, and once you've visited, it will be hard to go back to a typical VIP seat. The venue's promoter Mike Luba and General Manager Jason Brandt recruited Kerri Silvestri and her design firm Off The Record Collective to create the interior décor for the nine suites and the artist compound. With experience working at luxury music festivals like Coachella and PanoramaMusic Festival, Silvestri is accustomed to creating elevated experiences in eclectic styles.
"I was psyched because it wasn't the mundane, normal thing," Silvestri says of being approached to design the unexpected speakeasy suites. With entrances cleverly hidden by private porta-potties, you'd never expect to walk through and be fully transported to a swanky, retro and spacious lounge. Filled with antiques, quirky memorabilia and vintage furniture, the vibe was completely up Silvestri's alley. "There were unspoken guidelines," she admits of the stylistic direction. "The stadium originated in the 1920s and the 1960s-70s was their prime," she explains. With an art-deco aesthetic already close to her heart, Silvestri recognized it was important to keep in mind the venue's past and incorporate that into the design elements. From dark leather couches to mod lamps and swinging glass doors that open to prime balcony-viewing access, these lounges are comfortable and luxurious while paying homage to the historical past. Guests of the suites will enjoy various food vendors and a full open bar.
With this summer's lineup released and tickets available, Silvestri admits that she's already working on two brand new speakeasy suites that are expected to be ready in the coming weeks. "We're calling one of them the Secret Garden Speakeasy," she reveals. With a background in floral work, Silvestri says that this project is particularly dear to her heart, because she's able to incorporate that part of her experience into it. "There will be a hidden door covered by wisteria branches and overgrown ivy. When you find the handle, the interior will be Moroccan themed with an outdoor garden."
Make your way to Forest Hills Stadium this summer for a show and experience VIP in a whole new way, but be sure to open the right porta-potty door.
Click through the gallery for an inside look at the speakeasy suites.
To get a price quote or make a reservation, e-mail: FHSuites@cidentertainment.com