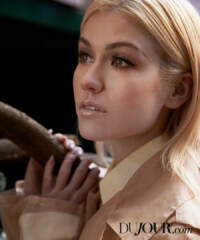 Audiences can become quite attached to characters from their favorite television shows. These characters are weekly guests in a viewer's home, and sometimes daily thanks to Netflix. For actress Kat McNamara, joining the cast of Arrow in the television show's seventh season, she knew there was a loyal fanbase and she would need to play a little catch up. Arrow is based on the DC Comics character Green Arrow so when the show first aired on The CW in 2012, the fans were eager to welcome these beloved characters into their homes.
"Coming into the show in the seventh season, it was very apparent how much of a family the show's team was and how the cast and creators had put in so much hard work and dedication for eight years," McNamara tells me. McNamara had unknowingly auditioned for the role of Mia Smoak, daughter of Oliver Queen (played by Stephen Amell) and Felicity Smoak (played by Emily Bett Rickards). "When they finally told me that I would be playing the 'Olicity baby,' as it were, I went back and watched the whole series because I knew how special that relationship was to fans. I knew how much care had been taken with Stephen [Amell], Emily [Bett Rickards], and the writers to craft those relationships."
McNamara's role as Mia Smoak was promoted to a series regular for Arrow's eighth and final season, which came to a close in January 2020. While previous seasons typically included 23 episodes, the final season had just ten. "What we were able to do then in season eight is have each episode be a real love letter to a different aspect of Arrow that made it so epic and iconic. That's what made the final season so special," McNamara says. The episode dedicated to Mia Smoak was arguably more special than the rest, because it served as a "backdoor pilot" episode for a potential spin-off show, Green Arrow and the Canaries. "It was a great opportunity to be able to see what the world would be like and get a glimpse into a world without Oliver Queen, which is quite shocking," McNamara says of the episode. The spin-off show has not been confirmed just yet, but Arrow producer Marc Guggenheim recently tweeted that there will be an update in May.
Though Arrow has ended and her future as Mia Smoak is unclear, McNamara has a very special project coming up that has been keeping her busy, which is exactly how she likes it. "I love what I do and doing as many things as possible is how I operate," she says. "I love to keep myself on my toes. Every different medium helps strengthen different muscles."
From starring in superhero-inspired television shows to portraying a small town girl in the upcoming CBS All Access limited series adaptation of Stephen King's The Stand, McNamara is headstrong on sharpening her skills. McNamara's character in The Stand is Julie Lawry, who she describes as, "the personification of hedonism and narcissism." Alongside McNamara, the show's cast includes James Marsden, Amber Heard, Whoopi Goldberg, Nat Wolff, Alexander Skarsgård, and Jovan Adepo. "It was such a creatively fulfilling project given that you can tell that everyone on production was so passionate about the story and bringing it to life. Everything is so luxe and rich and there is so much depth to it from the characters and the wardrobe to the sets and cinematography," the actress says of the show.
While fans of the novel might think they know the show's ending, McNamara assures me that is not the case. "Stephen [King] wrote an alternate ending for this because he decided he wanted to change the ending he originally wrote. I read it recently and it brings everything together and makes it quite special." The Stand is set to premiere later this year.