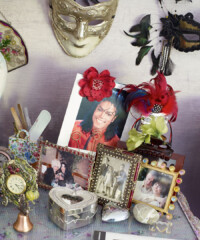 The new coffee table tome 700 Nimes Road offers a rare glimpse inside Elizabeth Taylor's Beverly Hills home, a place that was filled to the brim with relics from her storied Hollywood career. Taylor's dear friend of nearly three decades, the legendary lensman Bruce Weber, shares his own memories of her most treasured possessions.
Urban Cowgirl
"Elizabeth used to wear [cowboy] boots with the most outrageous clothes on her lavender motorcycle—she'd get on the back and drive around with [ex-husband] Larry Fortensky. She always laughed whenever she would land on a 'best dressed' list."
Click through the gallery above to see more of Elizabeth Taylor's treasures.