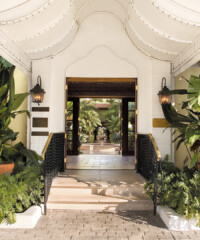 The elegance of The Brazilian Court lies in its intimate setting; the storied hotel is a leafy secluded villa rather than a massive beachside resort. The Colonial-style property boasts a verdant outdoor space with lush private courtyards and a pool that complements the rich mahogany of the hotel's interiors. Its boutique aesthetic, cozy guest rooms and beautifully manicured exteriors make the destination a crowd favorite as it prepares
to celebrate 90 years. "When you restore the splendor of a historic landmark, you have to take special care to do it the right way," says owner and managing partner Bobby Schlesinger. "We have delivered a world-class resort in the very heart of Palm Beach that perfectly blends architectural significance with unbridled luxury." 
A series of buildings house the 80 rooms and suites, as well as the award-winning Café Boulud restaurant. "We are also in the process of making a major investment in refreshing the restaurant space, including the lobby, bar and ballrooms," says Schlesinger.
301 Australian Avenue; thebraziliancourt.com