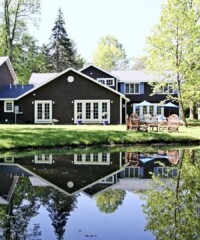 Less than two hours by car from Chicago is Harbor Country, a nostalgic cluster of communities where beautiful homes line the shores. This string of charming towns—New Buffalo, Union Pier, Lakeside, Three Oaks and Sawyer—in southwestern Michigan attracts city dwellers who come for a brief visit and inevitably end up staying longer. On a weekend jaunt, you can drive from town to town, visiting cool shops, tasting local beer, spirits and food, and taking walks along Lake Michigan's shore.
Owned by interior designer Linda Jo Clough and husband Rodney Clough, Rabbit Run Inn (6227 Elm Drive, Sawyer) is a picturesque place with meticulously designed, comfortable rooms and stellar service (expect fresh fruit and pastries at your doorstep every morning). Less than a mile from the inn is Stacia Garriott Cass' Sojourn (12908 Red Arrow Highway, Sawyer), a gorgeous interiors shop that walks the style line of beach house and city, vintage and modern. Stick around in Sawyer for a bite and a pint at Greenbush Brewing Co. (5885 Sawyer Road, Sawyer), a popular craft brewery and pub. But if you're more in the spirit for spirits, you'll enjoy Journeyman Distillery (109 Generations Drive, Three Oaks) and its beautiful tasting room, where you can pair whiskey with pickled farm eggs or a hearty bison sloppy joe. While in Three Oaks, a stop at Trilogy Antiques & Design (19 South Elm Street, Three Oaks) is a must. This showroom houses a huge collection of treasures from dealers, curators and designers.
Back along the Red Arrow Highway, another don't-miss spot is AP Shop (14931 Lakeside Road, Lakeside), a store owned by former Barneys visual director Ariane Prewitt and packed with a constantly changing display of finds: linen bags and handmade leather shoes from Mexico, cotton apparel and home goods from India, and pieces from independent American designers like Jasmin Shokrian. Stock up for your drive back to the city at Local (424 East Buffalo Street, New Buffalo), an artisanal food shop and butcher with fresh-baked bread, local cheeses and house-made charcuterie. Your final stop? At Nani's Café and Beach Shop (16117 Red Arrow Highway, Union Pier), you can cap off your summertime idyll with a Chicago-style hot dog and root beer float.
Click through our DuJour gallery for a closer look.