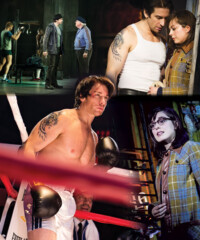 Polar Vortex, we will be ready for you.
For fall/winter 2014, New York designers came out in force with a plethora of coats and outerwear to keep us safe from the elements. Shearling dominated the collections in sporty shapes like oversized bombers, jean jackets and car coats.  Lumberjack plaids, tartans and muted tweeds often had utilitarian details like snaps and patch pockets which reinforced the no-nonsense approach to next winter. Add the season's preference for sensible flat shoes and sturdy boots, and weather be damned!
Once inside, relax, as the silhouette was long, loose and effortless. Sweater dressing prevailed with cozy oversized knits often paired with long flowing skirts.
As for work, New York kept it simple with classic menswear-inspired pantsuits. Traditional pinstripes and wool flannels looked reassuringly correct, but it was monochromatic dressing in cosmetic shades of cream and blush that looked the freshest.  And finally for a shock of color next winter, the dominance of electric blue and vermillion will brighten even the dreariest day.
Click through the gallery above to see the trends.
MORE:
Behind the Scenes at Donna Karan's Fall 2014 Show
The Top Accessory Trends from New York Fashion Week
Luxe New Ways to Wear Winter Whites