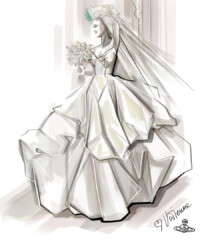 The hit television show Sex and the City always encouraged passionate feelings and reactions to topics like female empowerment, career goals, fashion and relationships. When New York City "single girl" Carrie Bradshaw, played by Sarah Jessica Parker, finally landed Mr. Big in the show's movie, it felt like the whole world was rooting for her. Bradshaw put on her glamorous Vivienne Westwood wedding gown and was ready to walk down the aisle before being tragically abandoned in front of the New York Public Library. Cue the waterworks. With the film's ten-year anniversary, the British fashion designer has decided to bring our emotions to the surface once again by displaying the iconic dress at her New York City flagship boutique. The dress itself is truly stunning and dramatic in all the best ways and will arguably live in cinematic history as one of the most "revered wedding gowns," according to Westwood's Instagram post.
To celebrate the anniversary further, Westwood has also created a collection of Spring-Summer 2018 ready-to-wear pieces inspired by the gown itself called the Wilma. The Wilma Cocktail Dress and Wilma Corset have been designed using the Wilma cutting system that Westwood used to create the original Cloud gown. These special pieces will be available from Vivienne Westwood flagship stores in New York, LA, Milan, Paris, UK stores and on viviennewestwood.com. Click through the gallery above for a look at the Wilma collection.
See the Cloud dress on display at the Vivienne Westwood New York City flagship store from May 27 – June 3.
Vivienne Westwood New York 
14 E. 55th Street, New York, 10022
Main image credit: Instagram.com.