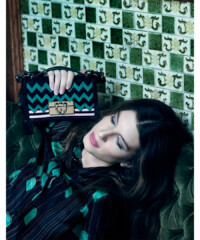 Rose Gilroy, daughter of model and actress Rene Russo and the Academy Award-nominated screenwriter of Nightcrawler, Dan Gilroy, has had a whirlwind few months since graduating from Colgate University. Just a few months after donning her cap and gown, Gilroy would follow in her mother's modeling footsteps, getting scouted while out and about in Los Angeles. This October, Gilroy stars in Salvatore Ferragamo's moody RTW campaign, styled by La Marque founders Meredith Melling and Valerie Macaulay. Here, Gilroy shares her top tip for timeless style and why Instagram is so important. 
How did you get involved with Ferragamo?
I've always had a great appreciation for the brand in general, so when the opportunity to work with Meredith and Valerie came about, I couldn't have been happier. It felt like such a great opportunity and such a great collaboration that they were also involved in. That's kind of how the project came together. I'm all around so appreciative.
Tell us about this newly released project for fall RTW. What was the shoot like?
It came together in such an amazing way. It's beautiful, and I'm so proud to be a part of it. I think it really does embody what Ferragamo wanted for this campaign. It's so classic and elegant, feminine, and at the same time, you're getting this nature vibe. I think the setting and what Meredith and Valerie curated for it is really embodied in every shot. For me, it's something I'm so proud of and I'm so excited for people to see.
We shot it in a townhouse in the West Village. I feel like Valerie and Meredith were sort of showing a strong, curated trend of femininity. A lot of the shots were about fall. They were darker—keeping that trend, though, of being feminine and elegant. I felt like the set really spoke to that. It was very curious and beautiful, so that was something that ran all the way through, that Meredith and Valerie kept throughout the whole project. 
Your mother, Rene Russo, was a model as well. Did she share any advice with you when you started?
I think some good advice that she gave me was that you have to work really hard. It's like any other thing that you want to do. You have to put everything into it and work really hard and not expect anything. Good advice that both my parents instilled in me about this job is that it's not something you you can just have. You have to really go after it.
How do you feel social media has influenced modeling? Do you feel pressure to have a lot of followers?
I wouldn't say that there's pressure, but I think that social media is a huge platform, so it'd be silly not to use it. It is a way of advertising for a lot of companies. In some ways, it's nice to be able to do this amazing project and be able to share it with people on social media, something that you're proud of. I think it'd be almost silly to not share something that you do that you're happy with on a platform that reaches that many people. 
How do you achieve your personal style?
I like to dress very classic. I keep it simple most of the time. It's always great to have beautiful staple pieces that you can have forever and that are an investment. You can mix and match with different things, even if it's just a t-shirt, and your outfit will always look different. I like to have staple pieces that you can wear with anything and make it look cool and different. I like to invest in things I know I can have forever. I want to keep it classic, simple, elegant. That's kind of what I aim for.
Shop the collection here.