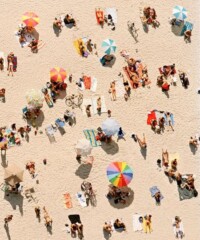 For most women, getting frustrated with not finding the right swimsuit ends in a glass of wine and a bout of complaining to a friend. But not so for Pret-a-Surf founders, Jillian Demling (Entertainment Editor at Vogue) and Karen Mulligan (Studio Manager for the photographer Annie Leibovitz). When they couldn't find chic surfwear for a trip, the friends were inspired to start their own line—beginning with making rashguards that took a woman's curves into account—and left the too-girly flourishes behind.
As often happens with women designing for women, the brand's founders think about things a little differently. "Women come in all different shapes and sizes and we wanted to make a suit for every shape. We looked to swim styles from the '40s and '50s for inspiration," they explain. "You can be sexy without showing it all."
Pret-a-Surf's Karen Mulligan and Jilian Demling
What's next for Pret-a-Surf? "We want to get our e-commerce site up and going. We get e-mails all the time from women who can't find our line. We want to be able to sell directly to our customers and eventually have our own free-standing store," they declare.
For now, the women are committed to splitting their time between their demanding day jobs and being entrepreneurs, saying, "We love what we do. We love the challenge of starting a new brand and the outlet to be truly creative and do it ourselves. Our day jobs gave us our foundation to be able to take this on and succeed."
But when Demling and Mulligan do get a chance to unwind, they prefer to go far from their lives in New York all the way over to Hawaii—specifically, the beautiful North Shore of Kauai. "It has everything: surfing, great food, incredible hikes on the Na Pali Coast, swimming under waterfalls, helicopter rides to the volcanos. It is a great place to explore and be adventurous but also has beautiful beaches to sunbathe and read a book and plenty of pampering."
*****
Click here to see pieces from Pret-a-Surf and shop for them at a special sale on Gilt, starting at noon ET on December 5, at gilt.com/wintergetaways.