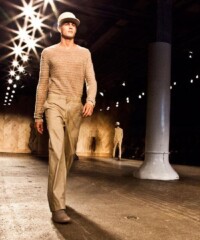 Legendary fashion designer Perry Ellis practically invented American men's sportswear: khaki pants, button-down shirts and the kinds of ties that Father's Day was invented for. For Daniel Silver and Steven Cox, the duo behind Duckie Brown, the high-fashion label that's been around since 2001, basics from their spring 2013 collection included backless denim jackets festooned with leather straps. We're talking about two aesthetics that couldn't be less compatible.
So the fashion world was surprised after Silver and Cox were chosen to create a new line—Perry Ellis by Duckie Brown—for the brand. Perhaps more surprising: On the afternoon of Sept. 11, the pair proved that they were a good fit for Ellis when they showed a casual yet stylish—if a bit devoid of color—debut collection of moderately-priced sportswear and suits.
DuJour caught up with Silver and Cox backstage moments before their new designs—which stand smack at the intersection of quirky and classic—hit the runway.
How is Perry Ellis by Duckie Brown different than your Duckie Brown line?
Daniel Silver: There's a big difference! On some level, we took what was worthwhile and terrific about Perry Ellis—a sense of humor and color and some of the silhouettes, dots, cables and other things—and created a new collection.
Steven Cox: People find it difficult to understand that there is a complete separation between the lines, but as a designer, I separate myself emotionally. You can be the judge of how much Duckie Brown is in this new collection, but we've traversed a road in the middle of the two.
So there is a different customer for the lines?
Silver: I think there are people who will buy it because it's Duckie Brown and people who buy it because it's Perry Ellis, but there will also be people who approach it as an entirely new label. It should brings a lot of customers to the table because there are many things for many different men.
Cox: It reaches a much wider audience. There's something for everyone. I would wear every piece of this collection, but I wouldn't wear each piece of Duckie Brown.
Did any of the pieces begin as part of one collection but end up working better for the other?
Silver: No. We're very definite about what we do. It was very clear what worked for each.
Cox: There are bomber jackets, though, that fit like Duckie Brown. We use a small, European fit, and it's also a slim European fit. It's not oversized, American sportswear. It's sharp—tailored for a sea of khaki soldiers.
Why do you think you'll succeed collaborating with Perry Ellis when so many other notable designers like Tom Ford, Marc Jacobs, and Patrick Robinson have not?
Silver: Those were all women's designers. Although I do think Marc had an incredible success.
Cox: If we have any kind of success like they have, it's good. That's a great group of people to be lumped in with.
Silver: And none of those people did a collaboration of Perry Ellis by X—they just did Perry Ellis. We're working on something totally new: a new line, a new collection and a new label.