Director Pedro Almodóvar has created an impressive body of work in his 40-year career. Movies such as Women On The Verge of a Nervous Breakdown, All About My Mother and The Skin I Live In have been acclaimed for the way Almodóvar—a self-taught filmmaker—used the memories and stories of his youth to create a new way of storytelling. On top of telling unique tales, his work is richly embellished with colorful scenery and complicated characters.
Earlier this month, this body of work was celebrated with a lifetime achievement award at the Lumiére Festival in Lyon, France. Almodóvar was also presented with a Girard-Perregaux Vintage 1945 XXL Small Second watch. Like Almodóvar's love of nostalgia, this handsome example of haute horlogerie was inspired by Art Deco styles of the past. But it is the amount of detail involved with the design of this timepiece that makes it an iconic example of what some call "stealth wealth," or a luxury item with subtle signifiers of the watchmaker's art rather than flashy diamonds, oversized cases or shiny finishes.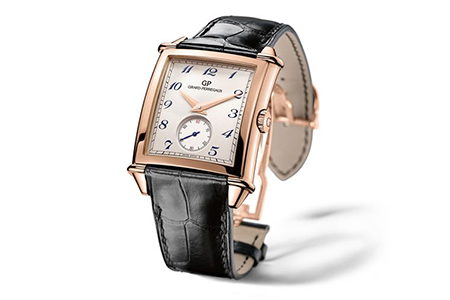 The luxury comes instead from the experience of wearing the 1945 XXL Small Second. The warm, pink gold case gently bends around your wrist. The rectangular dial is clean and the Dauphine hands and Breguet numerals make it easy to read the time. A little red 60 at the top of the sub seconds provides a pop of color. An alligator strap with deployant clasp lends extra elegance. And a curved sapphire caseback lets you admire the precision in-house, self-winding mechanical movement.
While it is called XXL, it measures only 36.2 x 35.25 x 11mm, making it light and comfortable to wear.  As the expression goes, it's the little things in life that count. Just as fans can still go back and rediscover new little things in classic Almodóvar films, the joy of admiring all of the Vintage 1945 XXL's fine details is what makes it a timeless treasure.
Photographed by Saby Maviel