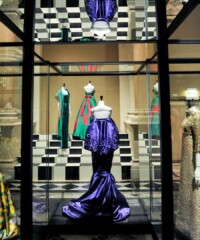 While haute couture is generally reserved for a small, select circle of customers, collectors and industry insiders to purchase and view in Paris, the upcoming "Paris Haute Couture" exhibition, presented by the City of Paris and Swarovski, is refreshingly free and open to the public. Pulling 100 dresses from the Musée Galliera and private collectors, the exhibit – which is the first of its kind in over 20 years in Paris – celebrates the varied history of couture from the late 19th century to today. While some of the highlights include early couture dresses by Charles Frederick Worth, Madame Grès and Jeanne Lanvin, there are also contemporary pieces from Riccardo Tisci for Givenchy, Maison Martin Margiela and Bouchra Jarrar – whose contemporary design was displayed next to a comparable Chanel number from the Coco days in the '50s. Swarovski has been a large part of couture history since it's inception in 1895, helping designers from Cristóbal Balenciaga to Karl Lagerfeld at Chanel create memorable pieces, 75 of which are on view at the exhibit. If you go only to admire the stunning gowns of Lacroix, Dior and Vionnet, you'll also notice the gaping hole in the chronology where haute couture may have lost its luster in a way. "Since the sixties, people have been talking about the death of haute couture," Olivier Saillard, director of the Musée Galliera and curator of this show, told DuJour, "and I have to admit that during the '70s – except for Saint Laurent – haute couture was very boring."

"It was an old discipline compared to ready-to-wear, which was very new and strong during that decade," Saillard continued, "With brands like Issey Miyake and Kenzo, ready-to-wear was more fresh in the '70s." Today, though, the curator feels very optimistic about the status of modern-day haute couture, even if contemporary designers may be holding back slightly—pant suits at Dior? Thigh-high boots at Chanel? "I meet a lot of new fashion designers like Bouchra [Jarrar], who are interested in artisanal designing. They are the designers not dreaming of opening shops in China. They are dreaming to work with a small group in an atelier in an artisanal condition," he said. "I always thought Nicolas Ghesquiere could be a great designer for haute couture. In a way, Ghesquiere did haute couture at Balenciaga." We think so too!

Paris Haute Couture is on view through July 6th at the Hotel de Ville in Paris.