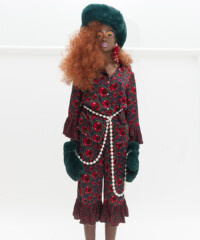 New York Fashion Week can induce a hamster-wheel effect, but leave it to Laurence & Chico dispel the monotony with a glucose shot's worth of hallucinatory womenswear confections. Yesterday, for their Fall/Winter 2018 collection dubbed "Doudou" after the French term for a security blanket, the up-and-coming design duo unveiled a menagerie of bold prints and lush textures in homage to their love of animals.
Now in their third NYFW season, Laurence Li and Chico Chang base their collections off Li's cartoon-like illustrations, which center on a non-human realm populated by adorably bug-eyed characters. Donning a YSL suit and Chanel earrings the size of walnuts, Li explains that in his and Chang's practice, the real and the imagined coexist. "In our world, Chico and I are the only humans. Everyone else is a flower or a fruit," says Li.
But Doudou, blending Victorian silhouettes and vivid, cartoon-like color lines, also takes inspiration from the real-life animal kingdom – namely, the two bulldogs that Li and Chang, also a married couple, co-parent. "Our actual pets are two bulldogs named Pearl and Button," Li says. Perhaps by no coincidence, the canine namesakes show up everywhere in the collection, from button-down tweed jackets to fur slides stoned with pearls.
Since meeting in New York on a dating app, Li and Chang's fruitful partnership has grown exponentially. "We started by making and selling postcards in postcards across from Miu Miu in Soho," Li recalls. But conquering New York Fashion Week is just the beginning; yesterday, the pair debuted pieces from their new monster-themed furniture line, and handed out samples of Laurence & Chico eye shadow from their forthcoming makeup line. Says Li: "We want to spread the Laurence and Chico lifestyle."
Main image:Laurence Li and Chico Chang pose with the Clermont Twins © BFA