While we're always captivated by the timepieces actors wear off-screen, we're equally as fixated on the watches that they wear in films. Our latest obsession is the watch worn by Matthew McConaughey's NASA pilot character Cooper in the movie Interstellar.
First of all, when a watch is worn as part of a costume or used as a prop in a movie, it illustrates just how powerful a signifier timepieces can be in the real world. The styling of a watch on and off screen serves as visual shorthand for a character. In this role, the Hamilton name brings with it a long association with aviation and innovation.  The company started in 1892, producing U.S.A.-made movements that rivaled anything the Swiss were producing at the time. They started making aviation models as early as 1919. And although modern Khaki Pilots are now made in Switzerland, they still have a certain element of American swagger.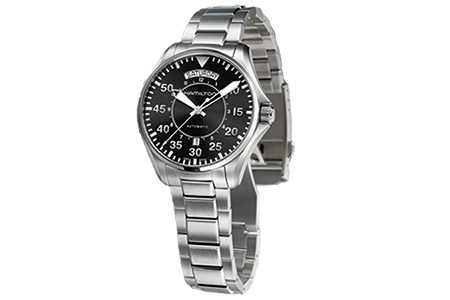 We don't want to get all spoilery, but time plays an important part in Interstellar.  The clean styling of this 42mm watch makes it easy for the wearer to follow any timeline. The big black dial features Arabic numerals, superluminova hands, a date window and a distinctive display at 12 o'clock that spells out the day in full. These elements are protected by sapphire crystal glass. Extra accuracy comes from the Khaki Pilot Day Date's exclusive ETA caliber 2834-2 automatic movement.
A stainless steel case and bracelet lends this model extra screen presence. The original Khaki Pilot collection was inspired by watches that Hamilton made for The British Royal Air Force in the 1970s, so they do have a practical form and function. This history makes it an excellent everyday watch. At the same time, there's something about the combination of flight and cinema that can inspire one to think beyond the everyday. Simply put, this handsome aviator, like McConaughey, is dreamy.