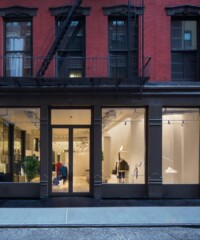 If Crosby Street is a little off the beaten path of SoHo, then Maiyet has picked the right location for its first standalone store. In the luxury market, the brand creates strikingly beautiful, high-quality pieces but is set apart by its mission—improving and promoting sustainable business growth for artisans in the emerging world including Indonesia, India, Peru, and Kenya.
"Luxury's foundation centers on artisanship and craftsmanship," co-founder and creative director Kristy Caylor told DuJour. "In finding amazing craftsmanship in unexpected places throughout the world, we are pioneering a new luxury and celebrating the next generation of global craftsman."
Maiyet first debuted at Paris Fashion Week two years ago, and since then Caylor's team has seen tremendous response from a typically apathetic (at best) industry and the kind of success that's essentially unprecedented for ethically-minded brands. "Our customers should not sacrifice on the luxury experience. We focus our marketing efforts on the product and the artisanal stories behind those products. But we feel that the brand needs to stand on design and product quality, not on the social story," Caylor said when asked about the Maiyet difference. "As a result, customers familiarize themselves with our story at the rate and to the depth that they desire. Some know everything and purchase as a result, some know very little and purchase because they are in love with the piece, and many sit somewhere in the middle. We welcome them all!"
Now, in addition to stockists like Barneys and net-a-porter.com, those drawn to Maiyet's exquisite pieces and the stories behind them have the SoHo store to flock to. The 2,500 square-foot space is home to the fullest expression of the brand's collection, including women's ready-to-wear, handbags, shoes, semi-precious and fine jewelry. "We wanted the store design to have the same authenticity that our collections do which you can see in hand-plastered walls and fixtures, a wall of hand antiqued mirrors, and custom-made cashmere covered fitting room doors," Caylor says. "We hope the store is also a place where people enjoy spending time."
Looking back on its few short yet fruitful years, the Maiyet team has already seen its vision come to life. "We embarked on a great journey," Caylor said of Maiyet's beginning, "visiting 25 cities in six months in search of partners to work with." Caylor, who previously worked on Gap's Product (RED) campaign, is passionate about fashion's social impact and is thrilled to see Maiyet's model at work: Last season, the brand sourced nearly 1000 meters of hand-woven silk from an organization of Varanasi weavers at risk of dying out, and their partnership helped grow their business in a big way. "We are constantly inspired by the craftspeople with whom we work and their spirit and unbelievable abilities influence our direction throughout the process. Ultimately, when our business does well, our artisans thrive."
Maiyet is located on 16 Crosby Street; 212-343-9999. Click through the gallery to see inside.