Watch & Learn: Mads Mikkelsen's Montblanc
by Natasha Wolff | May 27, 2016 10:00 am
Mads Mikkelsen is one of those rare actors who can really capture the duality of human nature in his roles. His villains, like the sadistic Le Chiffre in Casino Royale, still draw empathy. Even his portrayal of a psychopathic psychiatrist in the TV series Hannibal was almost cheerful. And his timepiece of choice—the Montblanc Heritage Chronométrie ExoTourbillon Minute Chronograph[1]—is just as complicated.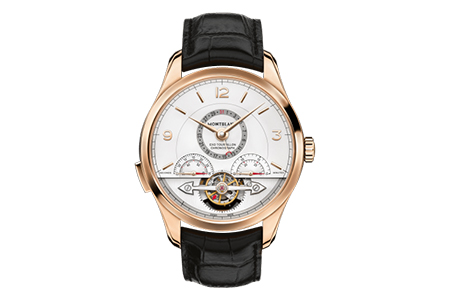 We spotted Mikkelsen wearing the Heritage Chronométrie ExoTourbillon at the Opening Gala Ceremony of The 69th Annual Cannes Film Festival. We've also seen the Danish actor sporting the watch at other events such as the Oscars. And whether he's dressed up in a tux or something more rugged and relaxed, there's something about the throwback look of the Heritage Chronométrie collection that suits any suit.
This timepiece has a dual nature as well. First of all, it combines two chronometric complications: a chronograph and a revolutionary tourbillon. "Exo" comes from the Greek word for outside. That's because the balance of the Tourbillon sits separately from the rotating cage.
Equally important is the chronograph caliber. Montblanc, of course, began life as a maker of luxury pens. But since Montblanc Montre S.A. was established in 1997, the company as worked tirelessly to establish their credentials in the world of haute horlogerie by developing and manufacturing their own mechanisms. For example, the Chronométrie ExoTourbillon's revolutionary Calibre MB R230 features a monopusher chronograph with a vertical clutch, a column wheel and a double barrel.
An aside, one of the reasons chronographs are so highly prized by collectors is because they are a complication you can interact with. There are buttons to push and, if you have a display case-back, moving gears to observe in action. In the case of the Chronométrie ExoTourbillon, the column wheel spins around the timing mechanism when you engage the stop/start button.
And all of this engineering is elegantly cased in an 18-karat, red-gold housing with a concave bezel (for scratch protection) and finely faceted lugs.
The sophisticated dial with different levels and refined finishes reflects the two complications of the timepiece. Like Mikkelsen, it's the Chronométrie ExoTourbillon's face that gives it real star power. The upper dial is expressively embellished with a fine ivory-grained texture. This is where the date, hours and minutes and the chronograph indications are displayed. Sitting just beneath is the tourbillon, exposed so you can see its steely, vertical satin finishes and the intricate construction of the ExoTourbillon itself. The watch then wraps around the wrist on a black alligator strap closed with a gold pin buckle.
Endnotes:
Montblanc Heritage Chronométrie ExoTourbillon Minute Chronograph: http://www.montblanc.com/en/collection/watches/montblanc-heritage-chronometrie-collection/112542-montblanc-heritage-chronometrie-exotourbillon-minute-chro.html
Source URL: https://dujour.com/style/mads-mikkelsen-montblanc-watch/
---