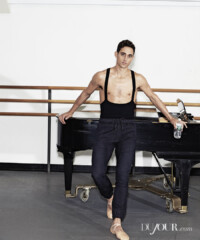 He might be the toast of New York's ballet scene, but there's something distinctly Californian about Justin Peck. Sometimes it manifests itself in his work—like Paz de La Jolla, a playful and sweet yet sophisticated ode to his San Diego roots—but mostly it comes across in his surfer-like nonchalance and the way hype seems to roll off him like water from a wet suit. 
"I don't really think about it that much," Peck says of his growing popularity. "I only notice it when people ask me about it. I'm like, Oh, yeah, there's that." 
Buzz has been swirling around Peck since the 2012 premiere of Year of the Rabbit, his first choreographic commission for New York City Ballet, where he is also a dancer. The New York Times called it "a triumph," and Peck's subsequent work for the company has been so well received that in July he was named resident choreographer—the company's second ever. 
"It kind of caught me off guard," the 27-year-old Peck says of the appointment. "It was really something I was hoping for down the line." 
Peck's always been somewhat advanced, however. He moved to New York to train with City Ballet at age 15, focused on being a dancer, but choreography became "like this itch that I couldn't get rid of," he says. His first attempts caught the eye of the company's director, Peter Martins, and not long after, Peck was invited to create work with the main company. He hasn't stopped since.
His rise to resident choreographer has been meteoric and speaks not only to the company's confidence in his talent but also to audiences' appetite for more of Peck's accessible yet unpredictable dances. For Peck, the security of the position gives him the ability to think long-term and, he says, "lets me take greater risks." 
Risk is a tricky thing in ballet, an art form highly codified in its technique and anchored in tradition. But unlike the ballet renegades of a generation ago, like William Forsythe, who distilled ballet to its basic elements and largely discarded romance and whimsy, Peck is unafraid of mixing emotion into his work. He nods to the past while keeping his eyes on the future. "It's about paying respect to classical technique and the academic setup for ballet," he says, "but at the same time figuring out how to push the envelope."
Risk for Peck means an unexpected choice of musical collaborator (he has twice worked with indie darling Sufjan Stevens) or a reimagining of an American classic. In February, he premieres his latest work for City Ballet, set to Aaron Copland's Rodeo score for Agnes de Mille's 1942 ballet of the same name, which she choreographed like a stylized hoedown. But not Peck. "I really want to dive deep into the music itself and strip the ballet of its themed elements," he says. "I don't want to do the whole cowboy thing. I don't want to do such a literal approach to it." 
This instinct and modern sensibility are further indications that Peck carries City Ballet DNA. After all, the company's founding father, George Balanchine, whose portrait hangs in Peck's apartment, is worshipped for his neoclassical innovations, stark ballets and frequent collaborations with contemporary composers. For Peck, too, music is muse, all centuries are fair game for inspiration and collaboration is the key to ballet's future. 
"I think there are a lot of great artists working out there right now, and I'd like to be a part of bringing us all together," he says. "Dance has this history of being a meeting point of different artistic mediums. I want to keep that going."