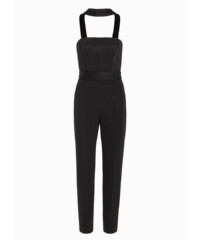 She may have embodied the platonic ideal of a muse in the mid-aughts epic Troy, but this year, Diane Kruger is proving herself to be a master. After winning Best Actress at Cannes for the German drama In the Fade earlier this year, the actress and fashion darling is reaching new creative highs as the co-visionary behind a capsule collection with best friend and designer Jason Wu.
The collection, which hits stores next week, is the latest offering from Wu's accessible womenswear offshoot GREY Jason Wu. While Kruger served as the face line last year, this collection marks her first time designing alongside Wu, with whom she formed a fast friendship 8 years ago after wearing one of his gowns to Cannes.
While past GREY collections have emphasized neutral tones and comfortable cuts, this season's actress-approved numbers, from business casual-chic trousers to a black-and-white smoking jacket, simmer with old Hollywood glamour. Here, we catch up with Wu about working with his best friend and his plans to enter the lifestyle space. 
How did this collaboration evolve from Diane serving a muse to you and her working together as design partners? 
We came up with the idea while we were on Christmas vacation in Tulum together over drinks on the beach. She wanted me to make her a few jumpsuits for her upcoming press tour and was looking for pieces missing from her closet. Diane's personal style is something I've always found inspiring and it felt so right to create a capsule together. She has clear view of what she likes so the design process was really effortless.
What was your primary inspiration? 
We referenced images of Marlene Dietrich in the 1940's and Guy Bourdin's photographs that we both love so much.
Outside of this collaboration, do you and Diane regularly exchange fashion advice?  
I always bounce ideas off of Diane and ask her for feedback—she is super constructive and I always appreciate her honesty and point of view.
Diane has had a momentous year creatively, given her Best Actress win at Cannes. Do the designs reflect her creative evolution in some way? 
Yes, there is definitely a sexier edge with this capsule that is very much inspired by her personal style evolution. What I love about Diane is that she isn't afraid to take chances both on and off screen– this capsule reflects those qualities.
Did her win there take on a special significance, given that you two met through Cannes in 2009? 
Yes, it was kind of amazing as we've come full circle in so many ways since we first met. We both evolved so much and I am sincerely proud and happy for her amazing trajectory of the past few years. What is even more special is that I got to be in Cannes with her this year and attended the premiere of her movie "In the Fade"– it was a tremendous moment for her.
You've reached milestones of your own this year with the launch of your perfume. How do you split time between your various projects and what are you focusing on next? 
I love to stay creative and my different projects tend to bounce off of one another. The launch of my first fragrance is so special as it is a project I have been dreaming of doing since day one – I am very much interested in exploring more lifestyle aspects of design going forward in addition to my collections.