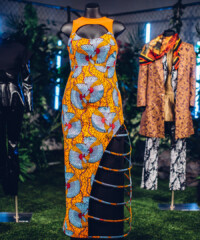 With Black Panther's inclusive cast and feverishly positive reviews, audiences are clamoring to enter Wakanda, the fictional realm in which the mold-breaking superhero flick takes place. While the film won't hit theaters until Friday, last night New York Fashion Week patrons were invited to experience a slice of the Marvel universe through "Welcome to Wakanda," a presentation of seven Black Panther-inspired looks. In addition the live models wearing original creations by CHROMAT, Cushnie et Ochs, Fear of God, Ikiré Jones, LaQuan Smith, Sophie Theallet, and Tome, several cast members, including Lupita Nyong'o, Michael B. Jordan, and Chadwick Boseman were in attendance – sadly out of costume.
Having signed on prior to seeing the film, each of the handpicked designers presented a unique interpretation of its themes – from Fear of God's militant black bomber jackets to gilded gowns by Cushnie et Ochs. But inherent in each of the looks, according to Theallet, was the commitment to promoting inclusivity in fashion. "They approached me because since day one, my brand has stood for diversity and respect for all cultures," says the French designer known for her outspoken beliefs. "The dress is about love and respect; this is more than fashion."
LaQuan Smith, known for dressing everyone from Beyoncé to Kim Kardashian, says his aesthetic was also well suited for the assignment. "Lupita is so graceful and beautiful and she takes risks. And that's the LaQuan woman," he says. "I just wanted to design something that was unapologetically sexy and progressive."
While the designers assembled have undoubtedly helped make fashion a more inclusive place, Smith says the film's cultural impact will transcend both the fashion and film industries. "I think the film is going to change lives. I think it's going to be groundbreaking in Hollywood and for black people in general."
Main image: Lupita Nyong'o attends "Welcome to Wakanda" event. Courtesy of Marvel.