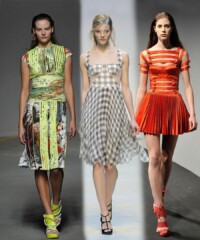 It's not every day that a wunderkind fashion designer gets scooped up by one of the industry's major holding corporations, especially since the global recession hit. But in mid-January, news of the first major post-financial downturn investment by a luxury conglomerate was announced: 51 percent of Christopher Kane's eponymous label, a favorite of celebrities, editors and PYT's alike, had been acquired by PPR, the parent company to a few other little brands you may have heard of—like Gucci, Balenciaga and Stella McCartney. In short, Kane is playing with the big boys now.
But Kane's success hasn't exactly happened overnight. Although he graduated from design school less than seven years ago, he's already had multiple retail collaborations, dressed stars (and even a princess) on the red carpet, and accumulated more accolades than many of his peers combined. So if you haven't jumped on the Chris Kane bandwagon yet, now's the time to start paying attention.
Click here to launch the gallery for a look at how he's made it and why his designs will be defining cool for seasons to come.