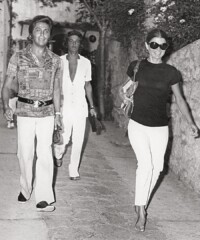 For the most part, Giancarlo Giammetti spent many years behind the scenes at Valentino. His friendship and business partnership with the designer was a story largely untold until the release of the 2008 documentary Valentino: The Last Emperor. In the film, the door to the world of Valentino was left wide open, showcasing not only the rich history of the Italian house, but also glimpses of Giammetti's contribution to the company which spans nearly 45 years.
Now, with the release of his autobiography titled Private: Giancarlo Giammetti, he's offering a more in-depth look at being the right-hand man to a fashion icon. In the book published by Assouline (out October 25), Giammetti debuts personal photographs of his youth and later years, featuring jaunts to ski slopes and islands with the likes of Madonna and Jackie O. Below, Giammetti shares some details on his very private life gone public.
Who is the most intriguing person you have captured through your camera lens?
It was probably because of my young age, but the most interesting and fascinating person I met and photographed was Diana Vreeland.
What is your favorite photograph in the book?
The one of Diana Vreeland with Valentino—Valentino's English was very limited, and his face shows so much worrying for what we had to answer.
Who is your favorite photographer and do they inspire you in your own work?
Well, these particular photos I do not consider work. I am definitely not an artist or a photographer. For me, taking pictures was a way to remember so many things that happened in my life. However, if I have to choose a favorite photographer, it would be Peter Beard.
What was the first photograph you remember taking?
Photographing my sister at her wedding. I was 12.
Did you ever dream of another profession? If so, what would it have been?
I studied as an architect, so if anything, maybe I would become one of them.
You're an avid user on Instagram (follow him at @privategg). Who is your favorite person to follow?
I love my friend @sacredsalad. She is a famous actress but she takes such lovely simple photos that are full of romance.
This book seems like the ultimate scrapbook of your life so far. What do you hope to add to the pages?
More fun!
Click through the gallery to see photos from book.