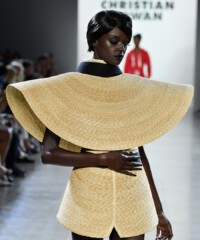 For his fourth showing at New York Fashion Week, Christian Cowan donned lime green locks and delivered yet another bold and inspiring runway presentation at Spring Studios. Cowan himself described the show saying, "there are a lot of major moments." The inspiration behind these major moments sprouted from Cowan's desire to celebrate women. "The women in my life, they're all just so fearless and they have their own careers and own every part of their lives," the 23-year-old designer says. The fearless nature was evident in every aspect of the Spring/Summer 2019 NYFW show, from bold power suiting to model Duckie Thot sporting an oversized straw hat as a top paired with straw shorts (both crafted by New York City-based accessories designer Eugenia Kim).
While Cowan is celebrating the fearless (and glamorous) women in his life, this New York Fashion Week has seen a surge in celebrating diversity on the runway in all forms of age, race, size and gender. "I feel very strongly about that. Diversity is incredibly important, but also incredibly hard," starts Cowan. He goes on to explain how agencies don't always represent the range of models desired, so the rarity of say, a plus-sized model, makes the rate impressively higher. "It's a struggle and I really wish some agencies could stage a remedy to help designers, especially young designers to get the models we want," Cowan adds.
Other looks included a contrasting combination of avant-garde with ready-to-wear staples. "I don't like the idea of doing a diffusion line. I want to mix it all together kind of like an inclusion line. You can see the most avant-garde looks paired with the really accessible ones," says Cowan. The designer's signature crystal drawstring hoodies are present along with checkerboard, zebra print, black mesh and watches placed on unexpected parts of the models as the main visual statements. Eugenia Kim's massive bows, veils with lenses, three-tier brimmed baseball hats and crystal patterned head covers added the experimental essence to an already bold and beautiful presentation.
Click through the gallery above for a peek at Christian Cowan's Spring/Summer 2019 collection with head pieces made by Eugenia Kim.