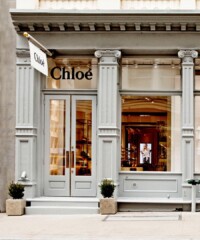 With gold display cases, vintage '20s Bibendum chairs by Eileen Gray, and light, blush-colored walls, Chloé's brand-new New York City boutique feels like it could be in Paris. It's fitting, then, that Chloé Soho, which is located at 93 Greene Street, is modeled after the brand's flagship in Paris, at 253 rue Saint Honoré.
The French fashion house, famed for coining the phrase prêt-à-porter and cultivating designers like Karl Lagerfeld and Stella McCartney, celebrated its new store — and 60th anniversary — on Thursday morning with pink champagne and Ladureé macarons. The store's retro-meets-modern aesthetic successfully translated across the Atlantic, and is aimed to make a day at Chloé "like a fun day out with friends," a sales associate told DuJour. And what's not to enjoy amidst racks of Chloé's spring ready-to-wear collection, accessories and an exclusive version of the Amelia bag, made of ostrich leg and calfskin in glistening chianti red and brown made just for the Soho boutique. (The handbag, pictured at right, retails for $4,400.) Much like the classic French comestibles that were served in celebration, the Amelia's gold, art deco-inspired handle complemented the feminine esprit of the store.
A portion of the proceeds from the exclusive Amelia will benefit The Mayor's Fund to Advance New York City in support of Hurricane Sandy relief efforts.